Handy House Artisan Fair 10 AM – 3 PM September 22
Handy House, 202 Hix Bridge Road, Westport MA
Set up inside and outside the historic house at the corner of Hix Bridge and Drift roads, the artisans will showcase weaving, basket-making, shingle-making, blacksmithing and much, much more.Some artisans will have their work for sale, so it will also be a chance to get a jump-start on holiday shopping.
Artisans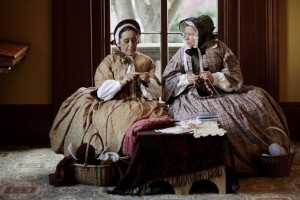 Special Guests: Ruth Bly and Abigail Almy are two middle class women who lived in New Bedford during the 1850s.   The New Bedford Whaling National Historical Park's visitor center was a bank during their time.  These two women discovered that if they stayed in the vault of the bank for 22 minutes, they were transported through time to the present day.  They join you today to share stories of the whaling era in New Bedford and demonstrate simple handwork.  Join them and learn how to knit using a French knitting loom.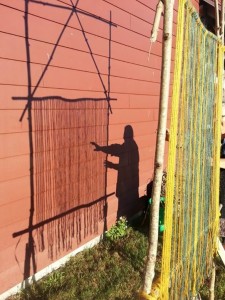 Linda Rhynard, weaving
Linda Rhynard is owner of Kindred Spirits Creations- a studio dedicated to teaching spinning and weaving in Bristol, RI.  Always fascinated by textiles, Linda did the usual 60's thing of hand crafts, sewing for self and the kids, knitting the Lopi sweaters etc.. She was also fascinated by Historical textiles but never had the opportunity to spin or weave until 2000.. A life changing event caused her to pause and rethink the life path that she was on.. She learned how to spin at Coggeshall Farm and vowed that weaving was one too many things to take on- but after taking an intro class to 4 harness weaving at the John Campbell School, she was hooked. The rest is history.
Susan Czernicka, indigo dyeing
Susan is a psychologist practicing in New Bedford who studied fiber arts at Mass Art and traveled to Japan to see famed indigo kimono dyers in their shops.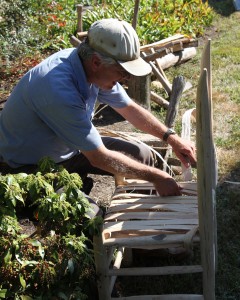 Michael Dyer, green woodworking
Kevin Baker, stone wall building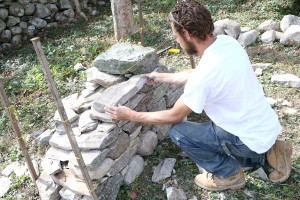 Gerald Vinci, Rural woodworking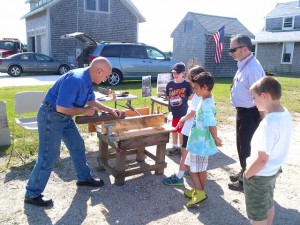 Gerald has worked as a house and boat carpenter as well as operating a sign carving shop over the last forty years.  In the last several years he has rekindled his interest in collecting and using early woodworking tools to better understand the daily requirements of life in the 17th – 19th centuries. "It really helps to get into the mindset of a craftsman 200 years ago when you complete a project with all hand tools.  I enjoy sharing my insights and demonstrating this work for the public". The demonstration will feature an array of hand tools that would be commonly found at a rural homestead in the 18th and 19th century to maintain the property.
Simon Newby, Joinery and window construction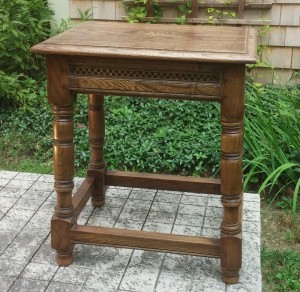 "Among the many important tasks which fell to the lot of the joiners after they had emerged from the ranks of the carpenters and general woodworkers, was the making of window sashes." Thus spake Philip Walker in a short essay on the tools and methods of the specialised work of the window sash maker which marked the start of my interest in traditional joinery.
In the Handy House it is difficult to determine if many of the sash remaining are original to the house as it went through its transformation over the many phases of its construction to its present state. The basic construction of window sash has changed little over the past 300 years. What did change was the increasing use of machinery in the fabrication of all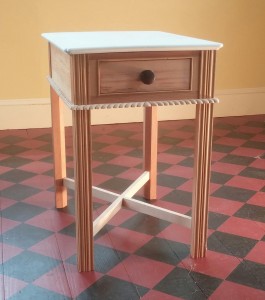 kinds of house joinery. Such was the quality of workmanship that it is not always easy to discern whether any or all parts of some sash were machine made or made entirely using the traditional tools of the trade. Not surprising when one considers a specialist joiner may have been required to make several hundred sash of varied  complexity in a year.
I started learning my trade in England over thirty years ago and developed a particular interest in all aspects of traditional joinery including furniture and house fitments. Occasionally I will call upon these techniques in my day job. I have worked for Troy City Woodwork in Fall River for over 15 years engaged in custom residential cabinetry and millwork. I shall be demonstrating the fabrication of a simple sash using traditional tools and methods which would have been familiar to any joiner working during the construction period of all phases of the Handy House.
James Faria, Woodcarving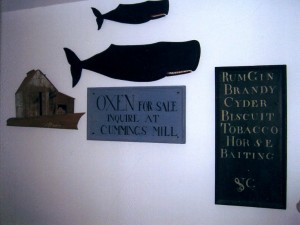 Specializing in the use of hand tools and 200-year old antique woods and nails and traditional milk paints. Three dimensional wall art made from actual early wood from demolished New England barns, including reproduction tavern and trade signs, hand carved birds, wood carved replica faces from original New England historic slate tombstones. Work done as it would have been constructed in the 18th century.
Tony Millham, blacksmith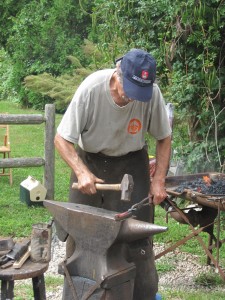 Tony Millham has been a full-time professional blacksmith for 28 years, beginning in 1971, making reproduction 17th and 18th Century architectural and household ironware.  He has operated a forge in Westport, MA since 1977 and will demonstrate making  door hardware with a portable coal forge and a few simple tools.
Joyce Winship, Hand braided rugs
I started braiding 64 years ago when I saw a nei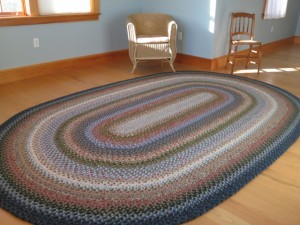 ghbor's hand braided rugs, I knew I could never afford.  I learned to braid from the late Anna Emond of Plymouth, when wool was $1.00 a yard on sale at the mills right here in Massachusetts.  Now wool is about $14.00 a yard from mills in South America.  It takes a little over a half a yard of wool to braid a square foot of rug.