Handy House Archaeology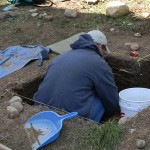 Between 2012-2013, a series of archaeological investigations were conducted at the Cadman-White-Handy House. Why did the archaeologists need to dig there? And how did they know where to dig?  The need to dig usually comes from local, state or federal laws. Where they dig comes from knowledge of the areas that are going to be disturbed, usually by construction. At the Handy House, multiple renovations were needed before the house could be opened as a museum, including repairs to the foundation. Read an overview of the project here.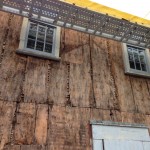 Discovering an ell
During the replacement of shingles on the north side of the house, a ghost outline of a former structure was noticed. Archaeological remains of this structure may have been present at the location of a proposed handicap accessible ramp. Read more about the ell here.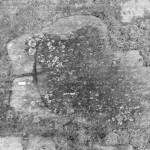 One of the features identified during the archaeological survey is a lye leaching stone or soap making stone. The irregular shaped stone measured 4.2 feet by 3.4 feet. This was the second largest stone used in the historic walkway north of the house. Since a lye leaching stone would need to be placed on a pile of rocks, this stone had been moved from its original location and placed in the walkway. Read more about the soap making stone here.