A Perilous Life – Westport Whaling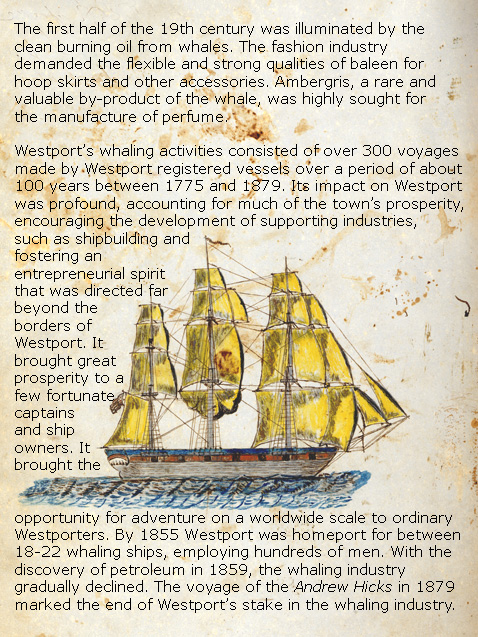 Credits
"A Perilous Life" was created by the following:
Content created by:
Barbara Moss
Jenny O'Neill
Sally Sapienza
Bill Wyatt
Website designed by Greg Stone
This web exhibition is supported by the Westport Cultural Council through a grant from the Helen E. Ellis Charitable Trust administered by Bank of America.
Our thanks to New Bedford Whaling Museum (NBWM) photo archives for providing many of the images for this exhibition.
Bibliography:
Hall, Katherine Stanley and Sowle, Mary Hannah. The Village of Westport Point. E. Anthony and Sons, Inc Printers, New Bedford MA, 1914.
Kugler, Richard. The Captain's Specific Orders on the Commencement of a Whale Voyage to his Officers and Crew, Captain Edward S. Davoll. Old Dartmouth Historical Sketch Number 81, New Bedford Whaling Museum, June 5, 1981
Kugler, Richard. Shipbuilding in Westport. The Bulletin from Johnny Cake Hill, 1983.
Lund, Judith Navis. Whaling Masters and Whaling Voyages Sailing from American Ports: A Compilation of Sources. New Bedford Whaling Museum, Kendall Whaling Museum, and Ten Pound Island Book Co. 2001.
Starbuck, Alexander. History of the American Whale Fishery, from Its Earliest Inception to the Year 1876. 1878. (Report of the U.S. Commission on Fish and Fisheries, Part IV, Washington, D.C., 1878.) Repr. 2 vols. with preface by Stuart C. Sherman, New York: Argosy, 1964. Repr. 1 vol., Secaucus, N.J.: Crown, 1989.
Westport Historical Commission. The Head of Westport, a brief history and walking tour guide to its historic houses. WHC 1987
Unpublished works available at Westport Historical Society:
Archaeological Reconnaissance Survey for Town of Westport
The Eleanor Tripp Collection
The Growth of Westport by Curtis Pierce, 1893