North Westport and beyond research project
North Westport (and beyond) Research Project
(including parts of North Dartmouth, East Fall River)
Task force members: Al Lees, Michael Labossiere, Charley Appleton, Jenny O'Neill
This task force was formed in May 2020 to explore the history of North Westport and surrounding areas. It is an ongoing project. We are sharing our ideas, notes, discoveries and questions here. Please contact the Westport Historical Society if you would like to contribute additional information.
Notes by task force member Michael Labossiere
Nineteenth century Westport, East Fall River and parts of North Dartmouth developed a unified rural identity. The area was physically separated from Fall River's burgeoning industrial sprawl by the Watuppa Pond yet it was near enough the city's prosperity and cultural diversity to be influenced it. The landscape was mainly farmland. What land wasn't in crops, pasture or orchard was forest…and fresh water…ponds, streams and wetlands.
The area was sparsely populated. It was last to get good roads and last to get electricity and telephone lines. It didn't have a store or a gas station. It had two churches, a number of one room school houses and an Indian Reservation.
Farming began a slow, steady decline after the Civil War. Some farm families held on for another generation or two and others were abandoned. Many farms prospered selling produce to growing local urban centers. Few, like Sampson's Potato Farm, have weathered the storms and soldier on. Others, like Copicut Farms, have been transformed to meet 21stcentury demand for fresh and organic products. Still others, while appearing to be farms, are a picture of 19thcentury agriculture but are, in reality, a labor of love, sustained not by farm income, but by a good "day job" or a retirement plan. The reality is most of the farms are gone – divided and converted to house lots.
The transformation from rural to residential is nearly complete.
Fall River's decision to acquire and control the North Watuppa Pond Watershed lands hastened a process already underway. Starting in 1895, the Watuppa Reservoir Commission offered a way out to struggling farmers. Sell out.
Fall River's actions to protect its water supply effectively closed down traditional uses of water and land resources. Ice harvesting, fishing, swimming, sailing boating, fowling and watering animals.
19thCentury Farmers
Blossoms
Sampsons
Shermans
Brightmans
Macombers
Millers
Wilsons
Bordens
Freeloves
Terrys
Hicks
Braytons
Collins
20thCentury Farmers
Sampsons
Shockleys
Petteys
Candido
Souza
Costa
Pineault
20th Century Native Americans ~ Perry Clan
City Workers ~ Reservation Transplants
Astle
Martin
Conroy
Reeds – Allison (Donkey) and Dana
Pond Cops
Rural Industry, Mining and Timbering
Desmaris and Brightman Sawmills
Allen and Davis pulpwood cutters
Portable Sawmills
Sawmill at Reservation Headquarters
Adirondack Lane sand & gravel
Acushnet Saw Mills
The "Reservation"
A collection of farms
Headquarters at 2929 helped sealed identity as the Reservation Area
The Great Fire of 1913 led to establishment of Copicut Hill Fire Tower
CCC workers construction of fire roads and fire ponds and planting hundreds of thousands of trees
State Forest
Land assembly began during the Great Depression
Ponds, Springs, Brooks, Wells
Boiling Springs
Brightman Spring
Disappearing Blossom Brook
Construction of state highways Routes 24 and 195 creating hard borders that slowed growth and reinforced isolation.
Rise of textile mills lead to increased population, demand for farm produce, fresh milk and eggs.
---
Maps
---
The Old Bedford Road/Blossom Street Historic District
From Massachusetts Historical Commission (http://mhc-macris.net)
The Old Bedford Road/Blossom Street Historic District developed primarily during the 19th century as an agricultural area. Occupying a remote location in the northwest corner of the town, it was far from the fishing village clusters of Head of Westport and Westport Point, or the industrial village of Westport Factory.
The district was dominated by the Sherman, Gifford, and Wordell families. The earliest houses in the district are Cape-type cottages owned by members of these families (WP-43,51,54; c. l835-40). The Gershon Wordell Farm (WP-44; c. l850), with its large Greek Revival style house and extensive collection of successive outbuildings, appears to have been the area's most important farm since the mid-19th century. By that period, the district's population was sufficiently large to warrant establishment of a cemetery (WP-52; cl840), and erection of one of the town's several Christian Churches (WP-41; 1858).
A few of the later houses in the district represent the limited suburban development that began to occur in northern Westport in the late 19th and early 20th centuries. These include examples of the Queen Anne style (WP-37,49), the Craftsman style (WP- 42,46), and one notable Colonial Revival style alteration of an earlier house (WP-40).
This area was largely by-passed by the early-mid 20th century suburban development generated by State Route 6 and the Dartmouth-Westport Street Railway line in areas just to the south. It is only in the past two decades, since construction of 1-195 on its immediate southern border, that extensive residential development has begun to occur.
The Old Bedford Road/Blossom Street Historic District (http://mhc-macris.net)
The Old Bedford Road/Blossom Street Historic District is located in the northwest corner of Westport. Itisborderedonthesouthby1-195,onthewestbyNorthWattupaPond and a power transmission corridor, on the north by a very rural part of Fall River, and on the east by an area of increasing suburban development. Interstate-195, which parallels Old Bedford Road immediately to the south, is the most likely agent of the recent suburban development both within the district and its immediate environs.
The district includes 21 contributing properties interspersed with 19 non-contributing properties. Generally, the contributing properties are mid-late 19th century farmhouses accompanied by stonewall-lined fields and outbuildings. Few remain in agricultural use however, and many have sold portions of their land to accommodate the new development. The non-contributing properties are all recent dwellings except for the complex of industrial structures belonging to Ponte Brothers Contractors. Despite the large proportion of non-contributing properties and the proximity of 1-195, the sense of the 19th century landscape remains quite strong. This is due largely to the retention of surrounding fields and outbuildings, stonewalls lining the fields and roadways, and the presence of a large, active farm at the district center (WP-44).
The Nisby site is located directly east of the district, and initial screening indicated possible visibility from the entire area. Brief descriptions of all contributing properties are provided below, beginning at the west end of the district.
Highlights
145 Old Bedford Road
WP-36: The Eldridge Wordell House is a 1 and 1/2 story five-bay cottage with a central cross-gable reflecting the Gothic Revival style. Major alterations to this cl850s house include new sash such as the picture window south of the main entry, and addition of a massive side wing. No open land or historic outbuildings are present. The immediate surroundings include modern dwellings and commercial properties, and Route 1-195.
150 Old Bedford Road
WP-37: The Cynthia Wordell House is a 2 and 1/2 story gable-end house that appears to date to cl880. It displays basic Queen Anne style features like decorative second story shingling above first story clapboards, and some multi-pane sash. It is accompanied by a barn/garage and undeveloped land to the rear.
155 Old Bedford Road
WP-38: This turn-of-the-century, gable-end dwelling has undergone major alterations that make its original character impossible to determine. Alterations include new 1/1 sash and doors, and a massive rear ell. It is accompanied by a large concrete block garage.
162 Old Bedford Road
WP-39: The Wordell/Gifford House is a 1 and 1/2 story gable-end structure that appears to have been constructed in the 1850s with an 1880s remodel. Mid-19th century features include 6/6 sash at the first story, heavy lintels over side and rear elevation windows, and its proportions, Later features include the multi over single pane sash at the attic story, and the side verandah. The house is accompanied by a large two-car garage and undeveloped land to the rear,
174 Old Bedford Road
WP-40: The Joshua Wordell House is locally dated at 1869. It is a 1 and 1/2 story gable- end Greek Revival style dwelling with a two-story side-wing. Architectural features include an entry with sidelights and lintel shelf, and windows with 6/6 sash and projecting caps. In the early 20th century several finely detailed Colonial Revival style additions were made. These include a sunporch with lozenge-shaped sash on the east side of the house, a large carriage house to the rear, and a fieldstone wall with iron gates at the street.
186 Old Bedford Road
WP-41. The Christian Church of c. 1855, is a focal point as the major non-residential structure within the district It is a one-story gable-end clapboard-clad structure whose elevated lot is surrounded by a granite retaining wall. The facade is centered on an elongated window flanked by single-leaf entries; all are headed by heavy bracketed lintels. A small lantern rises above the modillion cornice of this Classical Revival style building.
189 Old Bedford Road
WP-42: This two-story four-square dwelling that appears to date to c1920 is one of the most recent contributing buildings within the district. It is sheathed with fishtail shingles and is enclosed by a hip roof with exposed rafters. A small garage stands behind.
209 Old Bedford Road
WP-43: The J. Wordell House is a 1 and 1/2 story five-bay clapboard-clad cottage dating to c1840. Its center entry is framed by sidelights, pilasters and a lintel shelf. As part of a row of former 19th century farmsteads, it is accompanied by a barn to the rear and fields to the east.
222 Old Bedford Road
WP-44: The Gershon Wordell House, located at the intersection of Old Bedford and Blossom Roads, is the single most important property within the district. It gains this distinction through its central location and its status as an active farm with large main house, numerous outbuildings and extensive fields. The c. l850 house is a 2 and 1/2 story five-bay structure framed by two large wings; the east wing dates to the 1880s according to the WHC. This imposing Greek Revival style dwelling is set off from the street by an iron picket fence on granite curbing. Three moderate to large wood-frame barns are located directly behind the house; another smaller wood-frame barn and two recent metal-clad barns are set further back. All testify to the continuous agricultural use of the property. The building cluster is surrounded by fields on both sides and to the rear; the fields across the street may belong to this farm as well. The entire property is exceptionally well maintained.
248 Old Bedford Road
WP-45; The Lorenzo Sherman House is a two-story clapboard-clad Italianate style dwelling, Its gable-end with first story bay window faces the street. The west elevation is centered on another first story bay window and gable breaking through the roof. Paired brackets trim the bay windows and the roofline. The house is accompanied by a large barn and surrounded by fields.
15 Old Bedford Road
WP-46: This early 20th century shingled dwelling is a 1 and 1/2 story bungalow with overshot gable roof forming a full front verandah. A large central dormer lights the attic story. There are no outbuildings.
68 Old Bedford Road
WP-47: This dwelling appears to result from a recent conversion of the former P.T. Sherman barn. It is a large gambrel roof structure that presently contains apartments. Land directly to the south and behind has been developed with modern dwellings.
101 Blossom Road
WP-48: The Cummings House is a simple two-story gable-end dwelling that appears to date to cl900. Major alterations include new sash like the bowed picture window adjacent to the entry, and a large side wing. The house is accompanied by several large, modern outbuildings associated with Ponte Brothers Contracting.
108 Blossom Road
WP-49: The Isaac Bernard House is a large 2 and 1/2 story Queen Anne style dwelling with a corner tower. It is sheathed with a combination of clapboard and shingle. Major alterations to this c. l890 house are not apparent, but it is difficult to see behind extensive plantings. The house is accompanied by a large greenhouse and barn, and is surrounded by fields.
111 Blossom Road
WP-50: The Albert Sherman House is a clapboard-clad three-bay gable-end house with a rear wing that terminates in a bowed solarium. The entrance is located on the south side sheltered by a bracketed verandah. This charming Greek Revivai/Italianate style house is set off from the street by an elaborate balustraded wooden fence on granite curbing. It is accompanied by a truncated windmill and a barn with cupola. The land around the house is defined by a stonewall with fields beyond.
122 Blossom Road
WP-51, The Wilson and Marv Sherman House is one of several early 19th century 1and 1/2 story five-bay cottages in the district. This one has an exceptionally well detailed center entry framed by sidelights, Ionic pilasters and a full entablature. A side wing is fronted by a verandah with detail similar to that of WP-50. The house has been altered by vinyl siding and12/12 replacement sash which have had only a minor effect on its original character. A wooden picket fence supported by granite posts sets the house off from the street, while three barns and extensive fields are located behind.
Blossom Road Cemetery
WP-52: The Blossom Street Cemetery is a small neighborhood plot surrounded by one of the area's fine stonewalls with an elaborate iron gate. It contains approximately 75 stones ranging in date from c. l840-l920,
Overview of North Westport
https://wpthistory.org/explore-2/villages/north-westport/
---
Oral Histories Available at the Westport Historical Society
Henry Sampson was interviewed by Mary Giles on January 24, 1976. He spoke at length about his potato farm.
https://wpthistory.org/2014/07/henry-sampson/
Marion Reed was interviewed by Mary Giles on November 11, 1976. She spoke of her experiences with Fall River's Native Americans, her childhood, and her time teaching.
https://wpthistory.org/2014/07/marion-reed/
Alice Blossom was interviewed by Dorothy Gifford in 1976. She spoke about her family and work on the farm, and described some of her photographs.
https://wpthistory.org/2014/07/alice-blossom/
---
North Westport School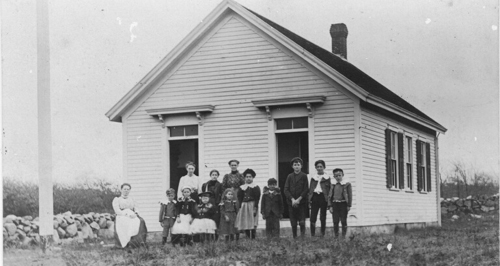 The North Westport School, District No. 17, was located on Old Bedford Road in North Westport. The records for the school year 1897-1898 indicate enrollment of six boys and twenty-three girls totaling 29. Length of the school year was thirty-six weeks. Attendance records indicate absenteeism was highest in winter with tardiness highest in the spring. In 1901 Mary E. Blossom taught 1st, 2nd, 4th, 5th, 6th grades and was paid $28.00 per month.
The North Westport School was identified by its unique two-pane door lights over the two entrances. An architecturally similar school, the Sanford Road School, has four-pane door lights over the two entrances. (Roy et al. "Early Schooldays In Westport." 1989. pp. 74, 81, 85). See also North Westport School with Students and Teacher; and North Westport School Class with Teacher
https://wpthistory.org/2003/10/north_westport_school/
Black and white photograph showing class sitting outside North Westport School where present grange hall is now in 1977.Teacher identified as Mrs. Fuller.
---
Miscellaneous
Original Blossom Homestead opposite 181 Blossom Road as of 1977, Westport, MA . Alice Milk Blossom (1783-1860) with grandchild. 19th century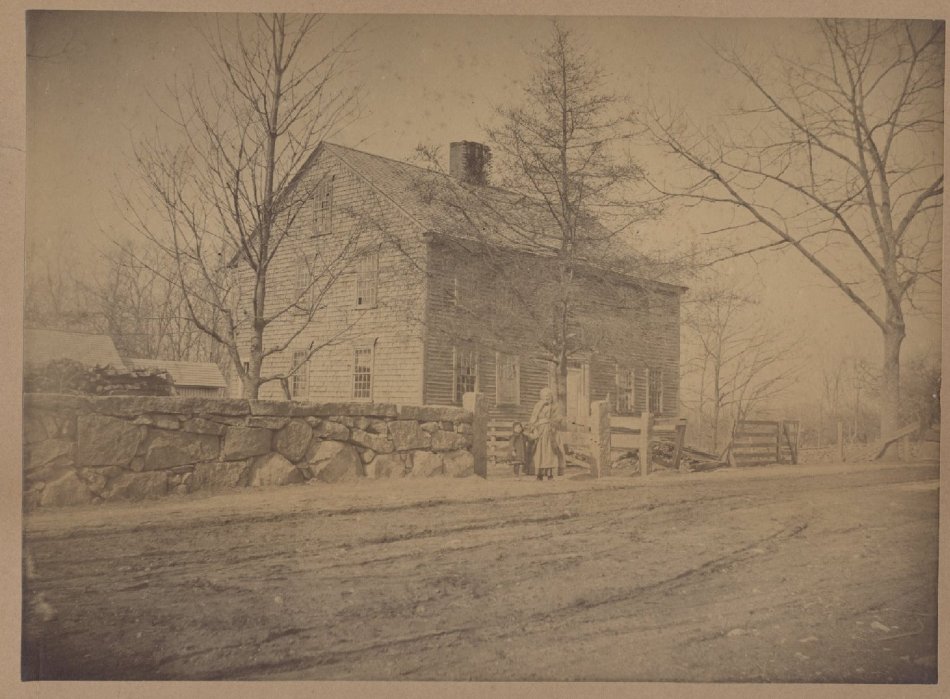 Fall River Herald clipping from Thursday October 6, 1955. Vanishing oxen still used on Indiantown Road Farm. The last known oxen in this area are owned by Victor Perry of Indiantown Road. The huge black and white animal on the left is estimated to weigh 2,200 pounds. He is 11 years old. The smaller, younger oxen on the right is three years old and is believed to weigh about 1,400 pounds. Perry, a descendant of the Watuppa Tribe of the Wampanoag Indians, raised the great animals and altered them himself.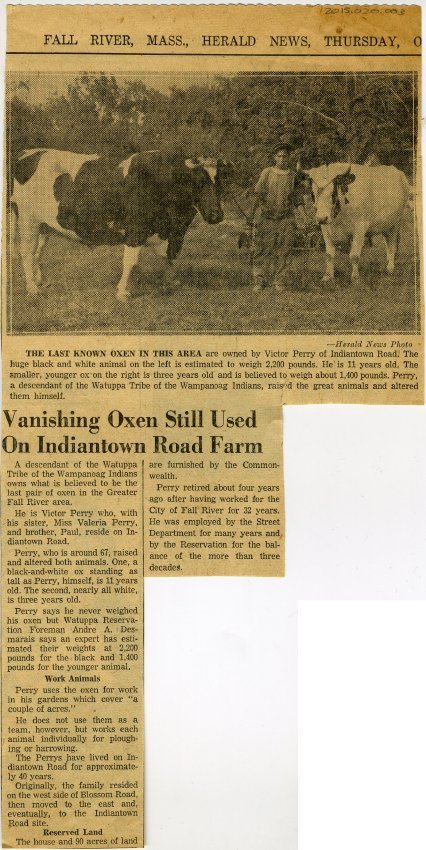 ---
Video
The Early History of North Westport
Blossom Road Families 3 from Westport Historical Society on Vimeo.
Victor Perry from Westport Historical Society on Vimeo.
Memories of Victor Perry, A Wampanoag who lived on the reservation on Indian Town Road. (Poor sound quality).
Dana Reed from Westport Historical Society on Vimeo.
Dana Reed interviewed by Russ Hart in 2008.
---
Other resources/Bibliography
Fall River's Watuppa Reservation by William Conforti
A Brief account of its origin and evolution including a profile of the Fall River Indian Reservation
Interview with Liz Rulon
The Phillips History of Fall River by Arthur Sherman Phillips
Fall River Indian Reservation / by Hugo A. Dubuque. Dubuque, Hugo A.
https://babel.hathitrust.org/cgi/pt?id=hvd.32044031984677&view=1up&seq=1
Dartmouth Historical and Arts Society
http://www.dartmouthhas.org/native-americans.html
Our Beloved Kin, A New History of King Philip's War
The Phillips History of Fall River
Fasicle I, II, III
A.S. Phillips
Note Fasicle I is the source for the Freeman and Pocasset Purchases
Indian Deeds
Land Transactions in Plymouth Colony, 1620-1691
Jeremy Dupertuis Bangs
Dartmouth Division of Lands – Dartmouth History and Arts
First link is Sally Aldrich's Masters Thesis
Topographical Survey Relative to the Boundary Line Between the Commonwealth of Masschusetts and the State of Rhode Island and Providence Plantation.
Town of Westport Historical Maps
Dartmouth History and Arts
Map Room
History of Fall River – Boundary question.
Fowler
History of Fall River
Henry M. Fenner
---
Ongoing questions:
Do you have photos or information about:
Local North Westport families
The North Westport school
The Grange
The church
Cemeteries
Farms
Native Americans
Do you have family correspondence, personal recollections, photos or other documents relating to North Westport?