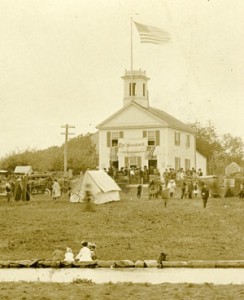 The Westport Historical Society has its headquarters in the Bell School House, a 19th century Greek Revival structure located in a picturesque setting on the banks of the east branch of the Westport River. The Bell School is open year 'round. All researchers are encouraged to call ahead to make an appointment.
The Bell School was built in 1841 to be used as a school for District No. 14, the west side of the river. There was evidently some jealousy aroused in the other districts when the residents of the Head of Westport decided to build so magnificent a building to be used as a mere schoolhouse.
In fact, one old character from another district made this remark in the presence of one who has handed it down to us: "Them folks to the Head is gittin' mighty high toned buildin' a school with a 'bellcony' on it."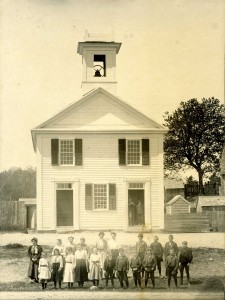 In the mid 19th century, voters did not appropriate funds for schools at the annual town meeting, but instead the voters of each district met in the schoolhouse of their district each spring and fall and decided upon what amount of money should be raised by taxation for the support of the schools.
If we are to believe the accounts told of some of these meeting, all was not harmonious. Evidently some of the voters had forgotten their ancestors were Quakers and had arrived at the point where they preferred to settle disputes with their fists.  Feuds seem to have sprung up between certain families and these often added life to the meetings, where fights occurred both inside and outside the buildings.
In 1858 the second floor of the Bell School became the private Westport Academy, a place for young gentlemen and ladies who wished to prepare themselves for teaching and for young men wishing to prepare for college.
For several years the high school of the town was held in the upper room of the Bell School and a grammar school in the lower room.  In 1906, the building was declared unfit for school purposes, and at the spring town meeting it was voted to build a new school building on Reed Road (the current Council on Aging building).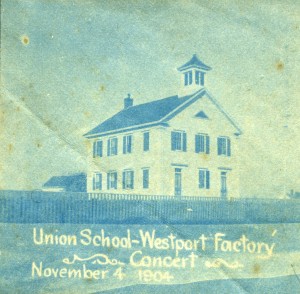 In 1908 the building was sold at auction to Albert C. Kirby for a grand total of $224.50. Mr. Kirby purchased the building with funds from the alumni of the school who proposed to give the building to the Westport Library Association.
The first floor came to be known as Alumni Hall and was used for community events. A stage was added to the building providing one of the first performance spaces in town. The second floor was used as a library. In 1972 the Westport Library Association gave the building to the Westport Historical Society and so the building continues to dispense knowledge — even if in a different manner.
Read more about early schooldays on Westport.