Handy House, 202 Hix Bridge Road,
Open 10 AM – 1 PM every Wednesday and Saturday
June 21 – September 16, 2023
FREE.
Parking is available off Hix Bridge Road.

Special exhibition: Bonnets, Bustles, and Bloomers
Explore the changing silhouettes of fashion and the statements they made through a display of accessories and outfits worn by Westporters in the 19th century. Visitors can try out some 19th century hairstyles and hats!
Undressed at the Handy House
10 AM Tuesday June 27, Tuesday July 25, Tuesday August 29 at the Handy House, 202 Hix Bridge Road, Westport
How many layers of clothing did the average woman have to wear in the 19th century? Join guest curator Blair Walker to learn more about the form and function of corsets, bustles, bloomers, petticoats, hats, gloves and other accessories as she undresses a mannequin from outwear to underwear.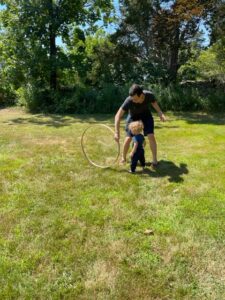 Kids Make History
July 12 – August 9, 2023
Wednesdays 10 am – 1 pm
Drop in for some creative family-friendly crafts! Make a corn husk doll, make a hat/bonnet, enjoy a scavenger hunt and explore the Storywalk along the Handy House Heritage Trail. FREE.
Summer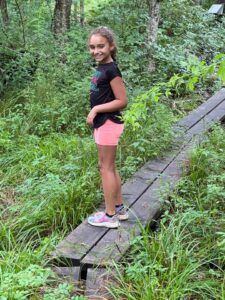 StoryWalk on the Handy House Heritage Trail
Take a walk, read a book, have an adventure!
July/August, open every day dawn to dusk. Enter at Handy House parking lot off Hix Bridge Road.
Our StoryWalk features children's book "Homespun Sarah" by Verla Kay. Experience the hardships and daily chores of life in early 1700's colonial America. Written in Verla Kay's own special style of cryptic rhyme, Homespun Sarah brings this early period of colonial history alive for children in a fun and exciting way.
Special exhibition: Infinite Details: Reshaping Everyday Life 1700-1850
Handy House Artisan Fair and Vintage Market
10 AM – 3 PM
202 Hix Bridge Road, Westport MA
Saturday September 16, 2023
(Rain date Sunday September 17, 2023)
Handy House Artisan Fair, organized by the Westport Historical Society, showcases 30 local craftspeople who specialize in skills and traditional crafts commonly practiced in the 18th and 19th century.
Traditional craftsmanship, from blacksmithing to green woodworking, is still very much alive in Westport. The Artisan Fair offers a rare opportunity to meet these craftspeople, learn about their skilled hand work and human powered technologies through hands on demonstrations. Some artisans will have their work for sale, so it will also be a chance to get a jumpstart on holiday shopping! This event not only preserves and perpetuates knowledge about traditional crafts, but is also an opportunity for the community to reconnect to its own history, to visit the Handy House and to celebrate the special heritage of the town of Westport.
---