Bell School 3rd Grade Lessons
Chapter 1 – History Close to Home – A Visit to the Bell School, 25 Drift Road, Westport, MA
Using hands-on activities, your students will explore a one-room schoolhouse built in 1841. They will get a glimpse into what school and home life might have been like for students attending school around that time.
Background Information for Teachers:
In the years following the American Revolution, education in rural areas, such as Westport, was primarily limited to the knowledge and skills that self-sufficient farmers and craftsmen needed to make a living. Education beyond the basics was often viewed as expensive and an unnecessary luxury. However, the ability to read the Bible was seen as a necessity, especially in this frontier settlement area populated by Quakers and Baptists who came seeking the freedom to worship.
If a boy was educated, he would learn to read, write, and do sums. Girls were taught the alphabet and how to read while learning to sew samplers, combining a valuable hand skill with the slightest amount of literacy. If they were financially able, girls were taught at "Dame Schools" by women whose knowledge base was generally only mildly more advanced than their students'. However, most girls were taught at home by their mothers. So, if a mother could read, but did not know how to write, those skills were generally mirrored in her daughter(s).
In 1784, a school was opened at the Friends Meeting House in Portsmouth, Rhode Island. That area became isolated in the years following the Revolution, making it difficult to recruit students and teachers, so, it was closed in 1788. Eventually, it reopened in Providence, Rhode Island in 1819 as a co-educational boarding school. This provided opportunity for some members of the Westport community, but, it posed a traveling disadvantage for poor children or those who were not Quakers.
In Westport, the Town Records, started in 1787 when the town was incorporated, show that the idea of a school was always a matter for discussion. However, there was little resolution until 1800 when school districts were established and a small amount of town revenue was set aside. That same year, local resident Paul Cuffe, a Quaker and a black man, established a school for his six children and neighborhood children on his farm off of Drift Road, south of Hix's Bridge. It was referred to as "Cuff's School" and admitted all races.
The Bell School was built circa 1841 in Westport School District 14. Its design and layout are typical of those influenced by educational reformers Horace Mann (1796-1859) and Henry Barnard (1811-1900), who advocated for higher standards and better conditions for teaching and learning. This was known as the Common School Movement.
This building's architecture blends two styles popular at the time; Greek Revival with a Gothic Revival cupola containing a school bell. This design was also used for the Westport Factory School and several schools in nearby Dartmouth. The Bell School became one of the grandest and most elegant of school buildings in Westport, fueling a rivalry between the east and west side of the river who were jealous of the small but elegant Wolf Pit School located further east along Old County Road.
Prior to the new schools, teaching took place in buildings that were generally sub-par, sometimes private homes, barns, or an unused building. When a building was built specifically as a school, it was usually done as cheaply as possible on land that was not good for anything else and received the most minimal of maintenance. Barnard wrote, "in city or country, he encountered the district School-house, standing in disgraceful contrast with every other structure designed for public or domestic use. Its location, construction, furniture and arrangements, seemed intended to hinder, and not promote, to defeat and not perfect, the work which was to be carried out within and without its walls."
The new schools built around the time of the Bell School followed the guidelines set forth in Barnard's 1838 book, School Architecture; or Contributions to the Improvement of School-Houses in the United States. It included detailed instructions for school construction which discussed the siting of the building, the landscaping and layout of the grounds, building size, lighting, heating and ventilation. It advised the best location for desks and their relation to blackboards, maps, charts, globes, and play areas, even emphasizing the need for privacy when using the outhouse and not locating it close to the play area. He discussed the best way to arrange the classroom for neatness and ways to help promote habits based on order. Things we take for granted today: hooks for hanging cloaks, boot scrapers, mats for wiping feet, sinks and towels for hand washing and separate outhouses for boys and girls, first made a consistent appearance in schoolhouses as a result of Barnard's advocacy and set a new standard for learning.
Vocabulary:
Sampler:                      A piece of embroidery worked in various stitches as a specimen of skill,                                            typically containing the alphabet and some mottoes.
Greek Revival:            A style of architecture popular during the late 1700s and early 1800s                                                 inspired by buildings from ancient Greece.
Cupola:                        A small structure built on top of a roof usually used as a bell tower, a place                                        to hang a light, or to be used as a lookout.
Boot scraper:               A rectangular piece of metal placed outside of buildings to enable people to                                      scrape the mud off of their boots before entering.
Slate:                           A dark, flat piece of slate rock used in schools to write on.
Switch:                        A slender flexible whip, rod, or twig.
Blackboard:                 A large board with a smooth, typically dark, surface attached to a wall or                                          supported on an easel and used for writing on with chalk, especially by                                              teachers in schools.
Penmanship:                The art or skill of writing by hand.
Suggested Reading:
Houston, Gloria, My Great Aunt Arizona, Harper Trophy Publications, 1992.
Barasch, Lynn, A Country Schoolhouse, Farrar Strauss & Giroux, 2004.
Kay, Verla, Hornbooks and Inkwells, G. P. Putnam's Sons Books for Young Readers, 2011.
Sandin, Joan, Coyote School News, Henry Holt & Co., 2003.
Wright, Betty Ren, The Blizzard, Holiday House, 2003.
Avi, The Secret School, HMH Books for Young Readers, 2001.
Bartlett, Susan, Sea Island School, Puffin Books, 1999.
Figley, Marty Rhodes, The Schoolchildren's Blizzard, Carolrhoda Books, 2004.
Hill, Kirkpatrick, The Year of Miss Agnes, Aladdin Paperbacks, 2000.
Lawlor, Laurie, The School at Crooked Creek, Holiday House, 2004.
Lenski, Lois, Prairie School, Lippincott Books, 1951 or Open Road Media (Reprint), 2011.
Swain, Gwenyth, Chig and the Second Spread, Delacorte Books for Young Readers, 2003.
Bial, Raymond, One-Room School, HMH Books for Young Readers, 1999.
Hausherr, Rosmarie, The One-Room School at Squabble Hollow, Macmillan Publishing, 1988.
Pringle, Laurence, One Room School, Boyds Mills Press, 1998.
In-Class Activity (Pre-Visit):
Read My Great Aunt Arizona by Gloria Houston. Possible discussion questions:
When Arizona was born, there were no cars, no airplanes, no electricity, and no running water. There were few libraries or stores, and most of those were far away. What were some of the changes she saw in her lifetime?
If she had been able to travel, how would she have done so in the 1890s and early 1900s?
Since there were no phones or email when she was born, how did people communicate with the outside world?
Show students the enclosed (in WHS Teacher Box) image of the interior of the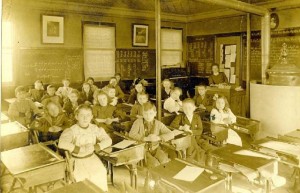 Westport Factory School, circa 1913 (WHS 2006.049.040). Discuss the similarities and differences between that school interior and their own classroom. This interior is similar to that of the Bell School. A similar discussion will also take place during the site visit.
Assign each student a name from the list Westport Names of 1841. Each name is of a real person living in Westport in 1841. However, they may not have been children at that time. If possible, have the students research the name they are assigned by going to the library or looking the name up on the internet. Provide a name tag with their "Westport Name" written on it for their visit to the Bell School.
Students should come dressed for the time period if possible. Please advise them not to wear their best clothes or a favorite piece of clothing as they will be practicing writing with a quill pen and ink.
Girls should wear dresses or long skirts, cotton blouses, bonnets, shawls, pinafore aprons. Boys should wear cotton pants, suspenders, and cotton or flannel shirts.
Please do not allow t-shirts, sweatshirts, sweatpants, baseball caps, or sneakers.
Teachers may also dress in period clothing if they wish.
Post-Visit Activities (In-Class or Take-Home):
1. Create a Venn diagram comparing and contrasting your life as a student today with that of a student attending the Bell School in 1841. Include at least three different points in each section.
2. Imagine it's 1841. Make your own quill pen and practice your penmanship by writing a letter to your cousins in Providence, Rhode Island who are attending the Quaker Boarding School.            Tell them all about your school day, your chores, what life has been like on your farm. Ask them about life in the city
3. Bell School Crossword Puzzle