This page will focus on information gathered for the following event:
French Canadian Families of Westport and Dartmouth Get-Together
10 AM Saturday August 5, 2023
Handy House, 202 Hix Bridge Road, Westport MA
Westport Historical Society and Dartmouth Historical and Arts Society invite those with French Canadian roots to gather for an informal discussion and sharing of historical and genealogical information.
French Canadians first began to settle in Westport and Dartmouth in the mid-1800s. Many came to work in the Fall River mills and for the Westport Manufacturing Company. By 1900, French Canadians made up 10% of Westport's population. Many settled in the Westport Factory Village located on Forge, Union, Beeden, and Highland Roads
Please bring photos and other historical documents to share at this event.
Some topics of interest include:
Why/when individuals came to the US?
What did they do when they arrived?
What are some of the surviving traditions that reflect your French Canadian heritage?
Migrations from Quebec: Famille Lamontagne
(Kathryn Lamontagne)
Joseph Nazaire Lamontagne (b. 11.21.1885, St. Magloire, Bellechasse – d. 7.9.1974 Westport, Mass) married Marie Amelia Boudreau (b. 1885-1977) at Notre Dame de Lourdes in Fall River, Massachusetts 4.9.1908. Nazaire immigrated in 1908, but his wife immigrated in 1904. Amelia was baptized at the Basilique du Notre Dame, Quebec City.
Their children were all born in Fall River/Westport:
Leo, 1908 (Mattapoisett)
Louis, 1909 (Pinehill Rd)
AngeAime, 1911 (residing on State Rd across from Highland Ave)
Romeo Noel, 1913 (resided on State Rd across from Highland Ave)
Rene J, 1915 (N. Dartmouth)
Norman J, 1919 (Blossom Rd)
Doris, 1923 (Forge Rd)
Irene, 1927 (Forge Rd)
In 1920, Nazaire and his father lived side by side with their children at 71 + 72 Factory Rd, Westport. Nazaire had a brother, Amedee (b. 1898-1966). Amedee's children have deep Westport roots – hopefully they will be here today! I will let them tell their own story.
Nazaire's father, also Nazaire (d. 1920), resided with Delia Clorinthe (d. 1926), his wife and three of their children Philibert (spare hand), Amedee (twister), and Alfred (overseer). Nazaire and Delia and their three children at 72 Factory Rd all immigrated in 1904.
All family members old enough to be literate were so, in the 1920 census. However, none that were born in Canada reported any formal education. All heads of household reported French as their mother tongue, but none of the Massachusetts born had any language reported.
Nazaire (b. 1885) was an Overseer in the Cotton Mill (presumably Westport Factory) and supported all his family on this wage (children were all younger than 12). Father Nazaire (b. 1857 Montmagny, QC – d. 1924 FR) was a factory laborer with his wife at home.
Amelia's (wife of Nazaire b. 1885) family all lived in Westport. On the 1910 census they are renting at 238 Factory Rd. Her dad (Theophile Boudreau b. 1847 Saguenay – d. 1922, Westport) married 3x according to the 1901 census and migration dates range from 1902-1905 for the family members. Employment includes dressmaker, twister in the factory. Again, literate, but not educated.
Theophile had worked as day laborer all over the Saguenay, Rimouski, Trois Pistoles, Baie de Chaleur before immigrating which coincides with the collapse of farming in rural QC. His last marriage was at Notre Dame de Lourdes, FR to a woman who was born in FR.
1930 Census.
Nazaire (b. 1885) renting at 271 Forge Rd with all children at home except Louis. He and his wife have naturalized since the last census and are recorded as citizens for the first time. Working as the foreman in the Yarn mill, his children Leo (foreman), Angeaime (braider), and Romeo (twister) are also employed there.
272 and 274 Forge Rd have present and future family members living a stone's throw away.
1940 Census
The family is renting at 248 Highland Avenue, which is directly across the street from St. George's Church. Angeaime has married a Jordan (neighbor's from Forge Rd in the last census) and is living with her parents – presumably her spouse is enlisting. The other children still at home with Nazaire and Amelia are: Romeo (helper in a garage), Rene (house painter), Norman (house painter), Doris and Irene. In 1940, Nazaire is no longer a foreman and laboring – but not in a mill.
After effects….
Norman J Lamontagne enlisted in the Army and fought. He graduated from Westport High School and was incredibly proud of his perfect attendance! He went on to work in the Fire Dept in Fall River and raised his family on the Reservation, just over the line in Fall River.
His son and daughter still live in Westport and have had successful careers in engineering and philanthropic efforts. His granddaughter, and great-grandchild are Westporters – 5 generations of North Westporters.
In 1997, Norman Lamontagne Sr.'s granddaughter participated in Le Cotillon, a Franco-American organization that celebrated Quebecois heritage and love of terroir. Open only to young people graduating from high school in Southeastern Massachusetts, le Cotillon was a celebration of language and a shared patrimony. The granddaughter returned to Canada and studied at Universite Laval in Quebec City before earning her PhD in history. She speaks French.
Descent
This family is directly descended from a number of Filles de Roi and are in the first wave of migration from France to Canada.
Francois Garonne dit Lamontagne was born in Lot-de-Garonne, France in 1646 – d. 1701 in QC. He is the first Quebecois in the Lamontagne line and served in the Carignan-Salieres regiment. This group was integral in the forced control of the Iroquois so that the French could dominate the fur trade during the reign of the Sun King, Louis XIV. Women, the Filles de Roi, were given a dowry to leave France (funded by the King) migrate, marry, spread their Catholic faith, instigate female order in a male dominated society, and bring French family life to the "Nouvelle France." Francois married Anne Philippe (b. 1653, Aube, Champagne-Ardenne- d. 1715 St. Michel de Bellechasse, QC) a Fille de Roi, in 1671. One can visit the historic family lands in Rimouski, Bas-St-Laurent: Maison Lamontagne.
+ 5 generations
>>
Nazaire (1830-1909) St. Magloire, Bellechase Sud
>>
Nazaire (1857-1924) Montmagny, QC>> N. Westport
>>
Nazaire (1885-1974) St. Magloire, QC-> N. Westport
>>
Norman (1919-1999) N. Westport
>>
Norman (b. 1950) N. Westport
+
2 generations (N. Westport)
Migrations from Quebec: Famille Pelletier
(Kathryn Lamontagne)
Please note: I have written on the Pelletier family in the past. There is an invited chapter in preparation: "The Dis/comfort of the Familial Matriarchive in Practice: The Papers of Sarah Pelletier (1884-1964)," in Family Archives and their Afterlives, 1400-present, ed. Imogen Peck (MUP). Other sections have been presented here:
Family Archives and their Afterlives, 1400-present, University of Birmingham, England with the Leverhulme Trust, July 28, 2023
"The Dis/comfort of the Familial Matriarchive in Practice: The Lived Catholicism of Sarah Pelletier (1884-1964)"
Second International Conference on Lived Catholicism. Paradox and Prophecy: Why the Study of Lived Catholicism Matters, 15 November 2021, Durham University
"Gender, Faith, and Class: Lived Catholicism in Massachusetts, 1950-1955"
https://livedcatholicism.org/lived-catholicism-2021/
Catholic Record Society 63rd Annual Conference, 19 July 2021, London
"The Lived Catholicism of Sarah Croskery (1884-1964): Examples of the Centrality of Faith for the Northern Irish Diaspora"
Westport (MA) Historical Society, April 20, 2021
"Hidden Stories of North Westport: Pelletier and Manchester Murder"
NEHA, Emmanuel College, Boston, April 10, 2021
"Migration, Mills, and Murder: The Manchester-Pelletier Case, 1932-1933."
"In 1878, at the height of Fall River's renown, a little boy named Octave Pelletier (1875-1952) and his family left their farming village of Saint-Octave-de-Metis, Quebec for the promise of industrial Massachusetts.[1] He became a machinist, later a mechanic, married, and would go on to raise thirteen children in the 'Flint' neighborhood of Fall River, a neighborhood particularly associated with French Canada.
Octave Pelletier was Quebecois, a French-Canadian, and his people were an integral part of this time of massive migrations. Historians such as Claire Quintal, Gerald Brault, Armand Chartier, and FlorenceMae Waldron have written extensively on this immigration history. All have pointed out that nearly a million Quebecois immigrated to New England from 1880-1930 due to economic stresses in Canada but also the hopes of economic prosperity in New England.[2] Incredibly, by the turn of the century, 30% of all manufacturing jobs in the entire Commonwealth were held by French-Canadians.[3] Mark Paul Richard has recently written about the prejudice faced by these Catholic immigrants in his book Not a Catholic Nation: The Ku Klux Klan Confronts New England in the 1920s (2015), with a special look at Quebecois communities is nearby Rhode Island and Maine.[4] In Fall River, the Quebecois shared a Catholic faith with many of their new neighbors, but not a language. They were marginalized but overtime their numbers were so populous that they soon became integral members of the larger community. Consequently, in Fall River the Flint was not the only "French" neighborhood, with vibrant pockets spread throughout the city. There has been a great amount written on the ethnic Catholic neighborhoods of Fall River, and it is important to know that this family was a part of this robust community of French-Canadians with whom they lived, worked, shopped, married, went to school alongside (in French) joined clubs, unions, and worshipped alongside.
Living in Fall River at the turn of the century, Octave Pelletier had 10 children with his first wife, Julianna (1875-1920), who shared his ethnicity and first language of French. After her death in 1920, their youngest children were sent to the Orphan's Home for a short time to be cared for, as was the custom when a mother died leaving behind so many young children.[5] This included an 11 year old son, Arthur. During the mother's long illness she was cared for by a local woman who had served in World War I as a nurse, Sarah Croskery. We have Octave, the dad, his wife has died and he quickly remarried. He has 13 living children, some who have gone off on their own as adults and he still has new bairns coming up. His children are born from 1901-1931. His 6th child and 6th son, Arthur, was born in 1909 and was only 11 when his mother died. His younger 4 siblings ranged in age from 9-4 when she died. He stayed with his father, step-mother, and new and old siblings at the family home until 1928 when he married.[6] His dad wasn't done having kids yet though!
Arthur was born and raised in the Flint. He, like so many others, worked in the textile industry. Arthur was a twister in the Kerr Thread Mill. His brother 'Phonse was a doffer, brother Ed a twister, and he married Merilla Moreau, a copwinder. The twister operates the machine that twists the thread and the copwinder would watch the machine to make sure that it was functioning properly. The factories were part of the landscape of their lives in so many ways. Mill buildings and church steeples, telephone lines and tenement roof tops blanketed the city. Economically, the financial success of the city and its people rose and fell with the textile industry. Kerr Mill was an ok place to work , although like other mills operatives couldn't expect to always work the same hours each week. They often had stoppages, creating anxiety over steady pay.
Merilla, like Arthur, was born in Fall River, but she was raised in nearby rural North Westport, where Arthur's family had a summer camp on the South Watuppa Pond.[7] The city's Flint neighborhood bordered North Westport, separated only by this Pond. On the shore of the Pond was the Kerr Thread Mill where they both worked.
Arthur and Merilla were both first-generation Americans. Their parents, like thousands and thousands of others, left their farms, their terroir, and came to Fall River to work in the mills from French Canada, Quebec. The nearby communities to Fall River, Westport and Dartmouth were farming and fisheries-based communities with limited industry. What industry there was grouped along what is now Rt 6, following the water power of the "confluence of Lake Noquochoke, the East Branch of the Westport River, and Bread and Cheese Brook.[8] The French-Canadian community of the towns was centered in an area called, not surprisingly, Westport Factory. There was a factory and a French Church, called St. George's, where Merilla and Arthur were married at the ages of 19 & 18 in April, 1928 soon after they found out Merilla was pregnant.[9] That same year, in late October, their son, Arthur Junior, "Junie," was born.[10] According the census, later in 1930 the family moved to Union Street in Westport.[11] Within the next two years they had moved to Gadoury Street in North Westport, just off State Rd (then Rt 3, now Rt 6) and Sanford Rd. Merilla's family lived nearby. Money was tight so they took in a boarder, Arthur Manchester, to help make ends meet. He paid $2-3 rent a week.[12] They had a motorcar and used it to travel into the City for work and to visit their respective families who lived within a few miles of each other, just off Rt 6., the State Rd, albeit in different towns.
At this point, the Arthur Pelletier family were, as we know now, like hundreds of others in Fall River and the Northeastern US. We see evidence of strong kinship networks, a young family, working class. Hundreds of others share their background. Their story is interesting, but probably only to their family members. They are evidence of a longue duree – migrations of people over the Industrial Revolution who worked, married, and worshipped."[13]
Octave Pelletier (b. 1875 St. Octave des Metis, PQ – d. 1952, FR, naturalized, 4.25.1896) m. Julianna Lamontagne (b. 1875, Fall River – d. 1920, FR) in 1900, at Notre Dame in Fall River.
They purchased/rented? their summer cottage on the S. Watuppa Pond in 1901 – it remained in the family until the 1990s. Family members still reside on the pond.
Children with Julianna:
Leo (1901-1962) Albany, NY
Wilfred (1901-1982) Fall River
Joseph O. (1904-1904)
Edward (1906-1976) Westport
Alphonse (1907-1960) New Bedford
Arthur (1909-1932) died on Gadoury St, N. Westport
Bernadette (1910-1968) Monson, MA
Julienne (1912-1983) Middlebury, VT
Eugene (1914-1986) New York
Alban (1915-1967) Squantum
Children with Sarah Croskery (1884-1964):
Mary (1923-2007) Tickle Rd, Westport
Therese (1925-2011) The Flint + summer in Westport (Tickle Rd)
Octave (1927-2013) Briggs Rd, Westport
James (1931-2023) Tiverton
Westport
In 1901, the Pelletier family began over 120 years of connection with the S. Watuppa Pond. The family cottage (which is accessible via Oak Ave off the Tickle Rd bend) consisted of a dock, outbuildings with outhouses and sheds, a screened in wrap around porch, an attic bedroom, kitchen, and central seating area. It was painted and white and forest green – generations of family members fought over sleeping on the porch, listening to the crickets noisily active, other summer neighbors chatting long into the night, the light lapping of waves on the dock and small beach. The idyll was different from their tenement home on Barre St in Fall River, which could be stifling in the summer heat. The pond home was barely a few miles from their home in the city, and, indeed, many of their Flint neighbors also had cottages next door to them: the Patenaude's, Landry's, Giroux, Deschenes/Fourniers and others.
Ownership was transferred to the younger Octave Pelletier, who had 5 children that were all raised in the family home on Briggs Rd. Until recently, 3 of the 5 children resided in Westport, 1 with his 3 children and all attended Westport public schools. One child of the younger Octave lives mere steps from the original cottage. There is also a new "Octave" who is 5 years old and lives in Maine.
Another branch of the family also settled on the Pond (Mary Pelletier Graham). She and her husband built homes on Sanford Rd + Tickle Rd. They later owned and operated a campground on Tickle Rd (Holly Hill) – complete with a Howard Johnson's. They also developed Christopher Circle (names after their son, as Patricia Way is a daughter). Today, nearly all of this branch of the family still reside in N. Westport with 4 family members on the Pond/Tickle Rd.
Descent
The PQ villages this family originally hailed from are Kamouraska, Saint-Octave-des Metis, Saint-Andre. The male Pelletier line can't be documented beyond 1811, but the female lines are directly descended from a number of Filles de Roi and are in the first wave of migration from France to Canada.
There are various family members from Poitou-Charennes, France migrating and marrying in 1697 in Riviere Ouelle. Some lines in France can be traced back to the late 1500s. One early immigrant to PQ arrived in 1657; Guillaume Pelletier was born in Bresolettes, Orne, France and died in Beauport, QC. Anne Langlois and Marie Fayet are just two of the many Filles de Roi in the Westport Pelletier line. In some cases, this family tree can go back 13 generations from 3 places: France, Quebec, Westport.
Example:
Francois Brunet, France (1645-1702)
>>
Francoise Brunette (1635-1668) Filles de Roi
>> 4 generations >>>
Anastace Banville (1797-1871) Rimouski ->> St. Octave- des- Metis
>>
Marie Gracieuse Banville (1843-1914) Metis-sur-Mer, PQ ->FR
>>
Octave (1885-1974) St. Octave- des- Metis -> N. Westport/FR
>>
Mary (1923) N. Westport
>>
Mary Ann (b. 1953) N. Westport + 2 generations (N. Westport)
[1] National Archives and Records Administration (NARA); Washington, D.C.; Index to New England Naturalization Petitions, 1791-1906 (M1299); Microfilm Serial: M1299; Microfilm Roll: 101.; National Archives at Boston; Waltham, Massachusetts; ARC Title: Copies of Petitions and Records of Naturalization in New England Courts, 1939 – ca. 1942; NAI Number: 4752894; Record Group Title: Records of the Immigration and Naturalization Service, 1787-2004; Record Group Number: RG 85.; 1920 Federal Census, United States, Fall River Ward 6, Bristol, Massachusetts; Roll: T625_684.; For more on the French-Canadian experience in New England see, Claire Quintal, Steeples and Smokestacks. A Collection of Essays on the Franco-American Experience in New England (Worcester: Editions de l'Institut Française, 1996).
[2] Quintal and Waldron Waldron, FlorenceMae. "Gender and the Quebecois Migration to New England, 1870–1930: A Comparative Case Study." Order No. 3083288 University of Minnesota, 2003. Ann Arbor: ProQuest. Web. 8 Jan. 2021.
[3] Op cit, Silvia (1976), p. 223.; U.S. Senate, Woman and Child Wage-Earners, I, 1910, 107; Mass. Bureau of Statistics of Labor, Mass. Labor Bulletin, XXXIX (January, 1906), 39.
[4] Richard, Mark Paul. Not a Catholic Nation: The Ku Klux Klan Confronts New England in the 1920s. Amherst; Boston: University of Massachusetts Press, 2015. Accessed February 18, 2021. http://www.jstor.org/stable/j.ctt1hd19qk.
[5] Family Correspondence, Jacqueline (Pelletier) Cabral to Ann (Pelletier) Strong, n.d. In possession of the author.
[6] City Directory, 1928, p. 714.
[7] 1930 US Census
[8] https://wpthistory.org/explore-2/villages/westport-factory/
[9] 1871 Westport, Massachusetts Map from F.W. Beers Atlas of Bristol County; "Westport Parish celebrates 100 Years…" http://www.anchornews.org/news/2014/october-2014/10-03-14-5.html; Town of Dartmouth, Vital Records, 1928. Marriage, April 9, 1928.
[10] Collection of James Pelletier, PhD. Letters from 1950-1953.
[11] 1930 Census
[12] FRHN, July 2, 1932, p. 4
[13] Extract fro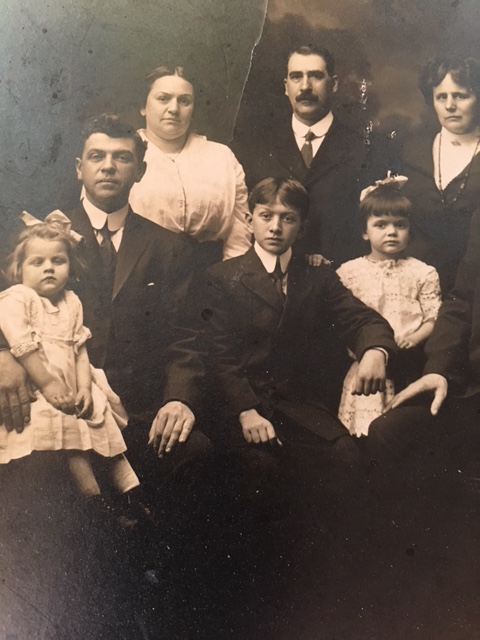 From Gary France: This is Onida Gagne's family photo circa 1910. This is a Westport family. Onida is on the left with my grandmother's sister on his knee. My grandmother is the little girl to the right. Onida was a key figure during prohibition in Westport and was a town constable at that time. This is the only known photo of him we have. Onida was from a family of Quebec fur trappers that arrived in Quebec circa 1650. They are about half Indian blood as french woman did not arrive in Quebec untill the mid 1700's. His daughter is my mothers mother. They lived in Route 6 circa 1915 and operated a general store. Onida could not read or write and started his life as a child laborer in the Fall River mills starting at age 9. The historic French Canadians are a mix of French and North American indian blood and the story of the fur trappers and the lure of work in the Fall River mills is a very amazing story. One third of Quebec Province moved to Southern New England Mills during the great Canadian depression of Quebec.
The following names were collected from the Westport phone book printed in 2010). Let us know of any errors or omissions:
Audette
Aubin
Beaulieu
Bernier
Bolduc
Bettencourt
Blanchette
Bouchard
Brodeur
Brousseau
Bussiere
Cadieux
Cadoret
Charette
Chouinard
Desjardins
Desmarais
Desrosiers
Dolbec
Doucette
Dubiois
Dufault
Dufresne
Dumaine
Dumas
Dupre
Duquette
Emond
Fountaine
Forand
Fournier
Gagne
Gagnon
Gallant
Gauthier
Gendreau
Goulet
Grandmaison
Hebert
Jusseaume
Labonte
LaFlamme
Lafleur
Lafrance
Lajoie
Lamontagne
Laurendeau
Lavalley
Lavoie
Ledoux
Legendre
Lemieux
Lepage
Lepreau
Letendre
Letourneau
Levesque
Masson
Menard
Messier
Moreau
Nadeau
Ouellette
Paille
Paquette
Pelletier
Phenix
Pichette
Pineault
Proulx
Rioux
Rousseau
Routhier
Roy
Rulon
Sansoucy
Sasseville
Therrien
Thibault
Thibodeau
Vaillancourt
Valcourt
Vanasse