Fragments of Westport's History Preserved in Scrapbooks
The Westport Historical Society's scrapbook collection includes more than 30 volumes, amounting to more than 1000 pages. Many of the scrapbooks have been digitized for easy access via our online collections database. The collection provides a valuable miscellany of local news, spanning a timeframe from the late 1800's to the mid-1900s and documenting local events, from the important to the obscure and even scandalous, and capturing the personal interests of its creator. Topics include school, hurricanes, the details of births, deaths and marriages, world wars, local tragedies and celebrations.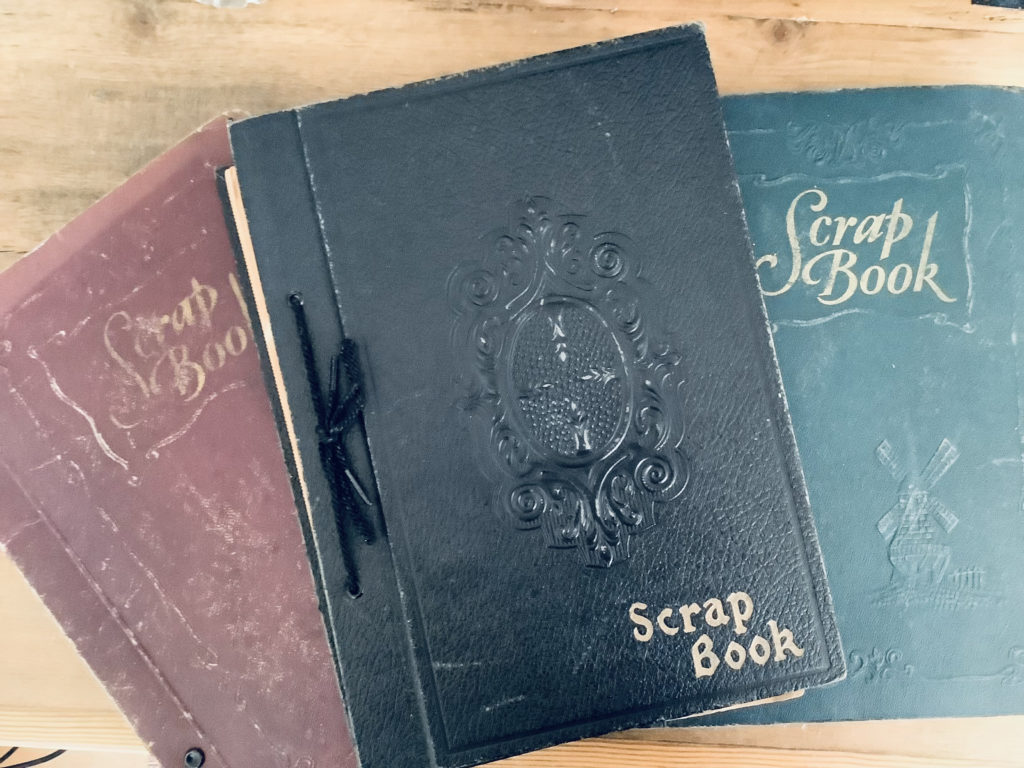 Much has been written about the history of scrapbooking as a way to organize and manage what was considered to be an overwhelming amount of ephemeral media — an explosion of newspapers and magazines in the 19th century. To preserve the important and meaningful for later access, scrapbookers (most often women) "scissorized" a newspaper and the clippings were known as "gleanings."
Historians compare scrapbooking to today's "pinning, posting, and tweeting" on social media. For archivists, scrapbooks present special conservation challenges – the glue fails and clippings crumble – but, if properly cared for and handled, I suspect scrapbooks may outlive their fleeting digital counterparts.
Should you come across a scrapbook, please understand that whoever the creator, it is a significant cultural artifact, worthy of preservation – not to be thrown in the trash!
You can explore our scrapbook collection at the following link. Search by using the keyword "scrapbook."
http://westhist.pastperfectonline.com/
Here are some highlights from the scrapbook collection of the Westport Historical Society:
Josephine Zembo Scrapbook Collection
WHS 2008.091
Unfortunately, in most cases, the identity of the scrapbook's creator is not known. However, the historical society is fortunate to have a set of scrapbooks by a most prolific scrapbooker, Josephine Zembo, who documented her school days and the class of 1932. In addition to newspaper clippings, she saved programs, tickets, photos, and even ration cards. Her scrapbooks are filled with news of classmates, sports, dances, plays, graduations, and travel. The pages are embellished with her handwritten notes, identifying people and providing additional commentary.
Scrapbooks documenting the hurricane of 1938
Several scrapbooks document the disastrous and damaging hurricane of 1938. One volume focuses on Westport Harbor, WHS 2008.046, donated by Charles Test.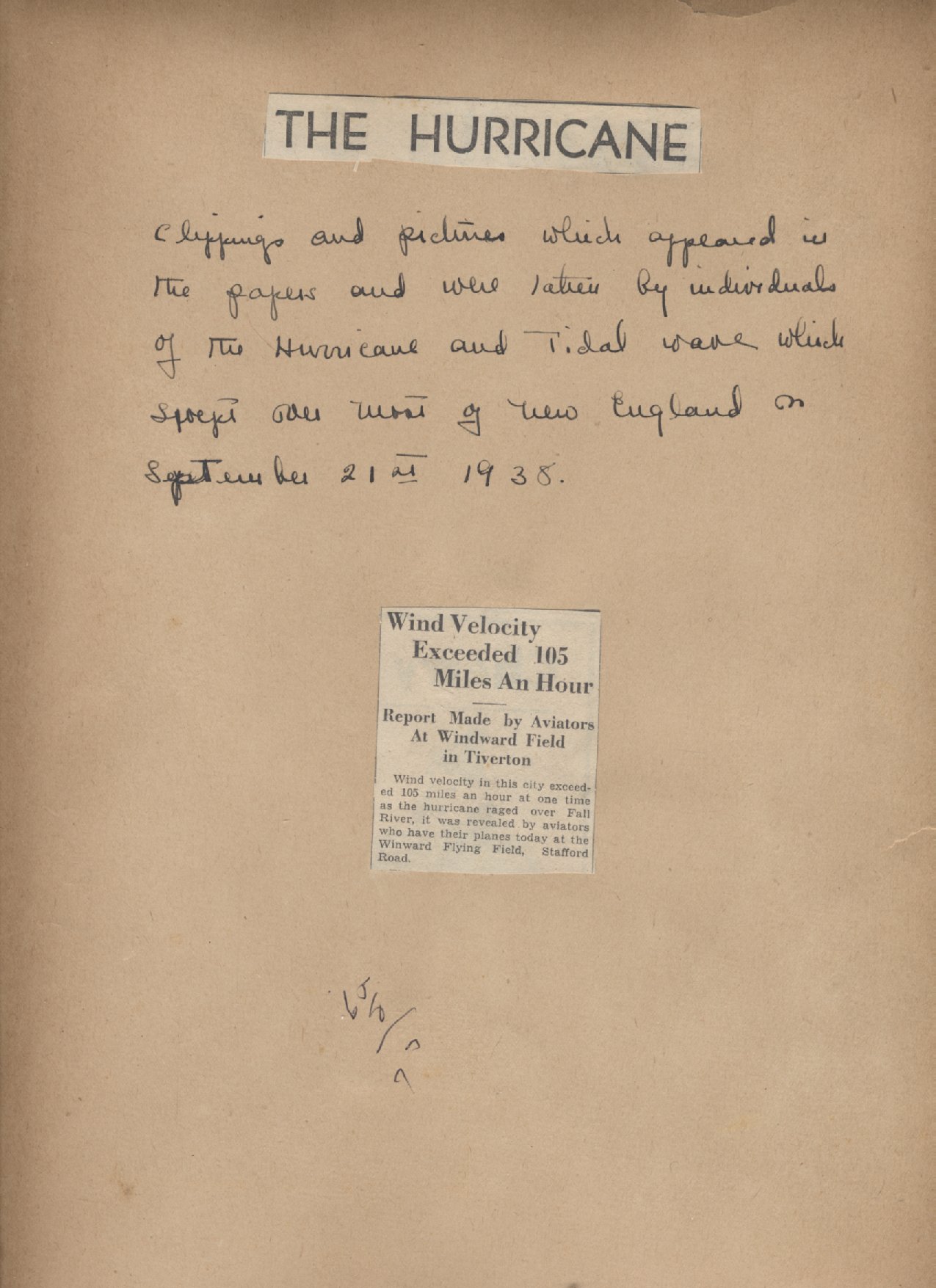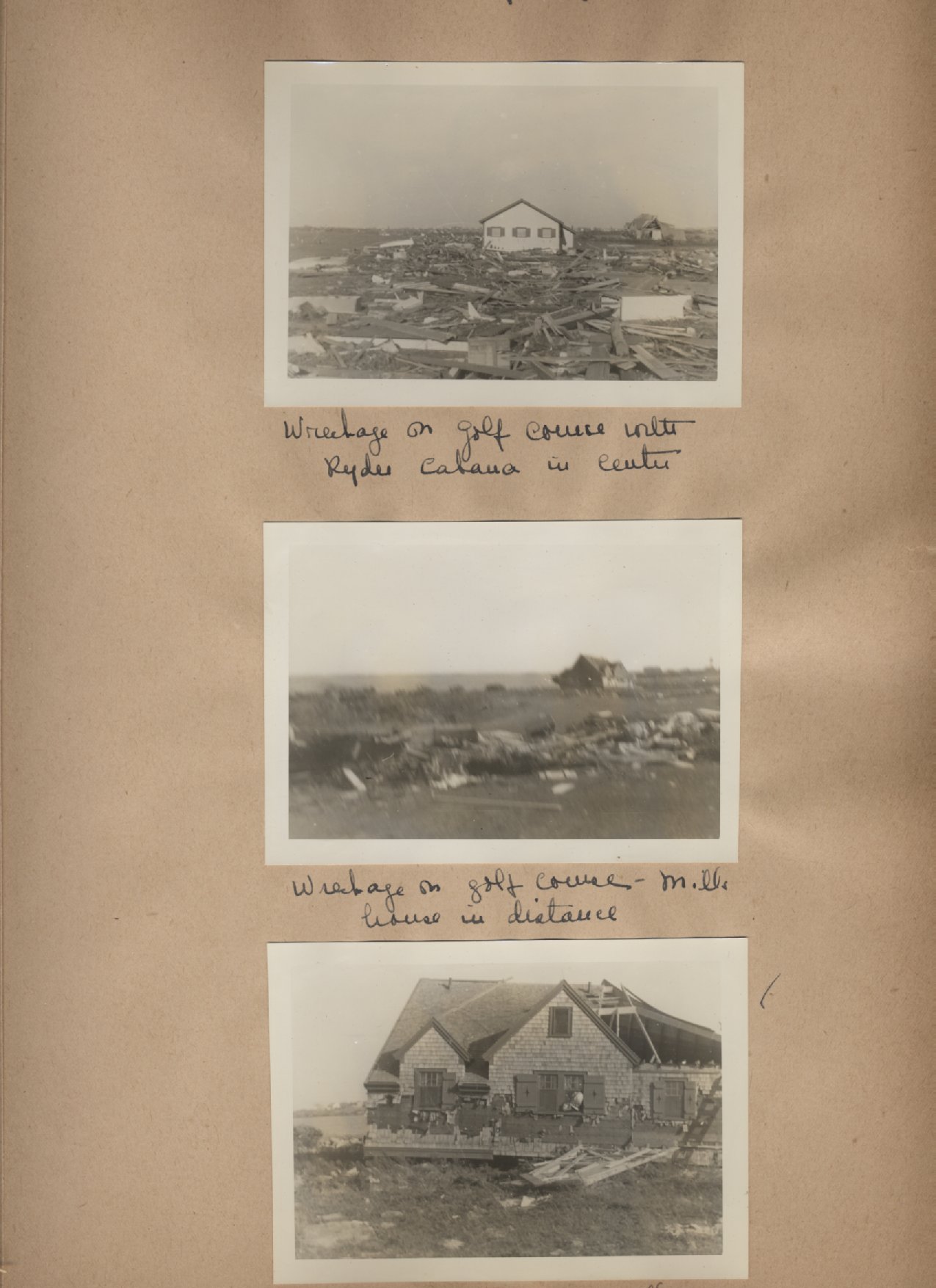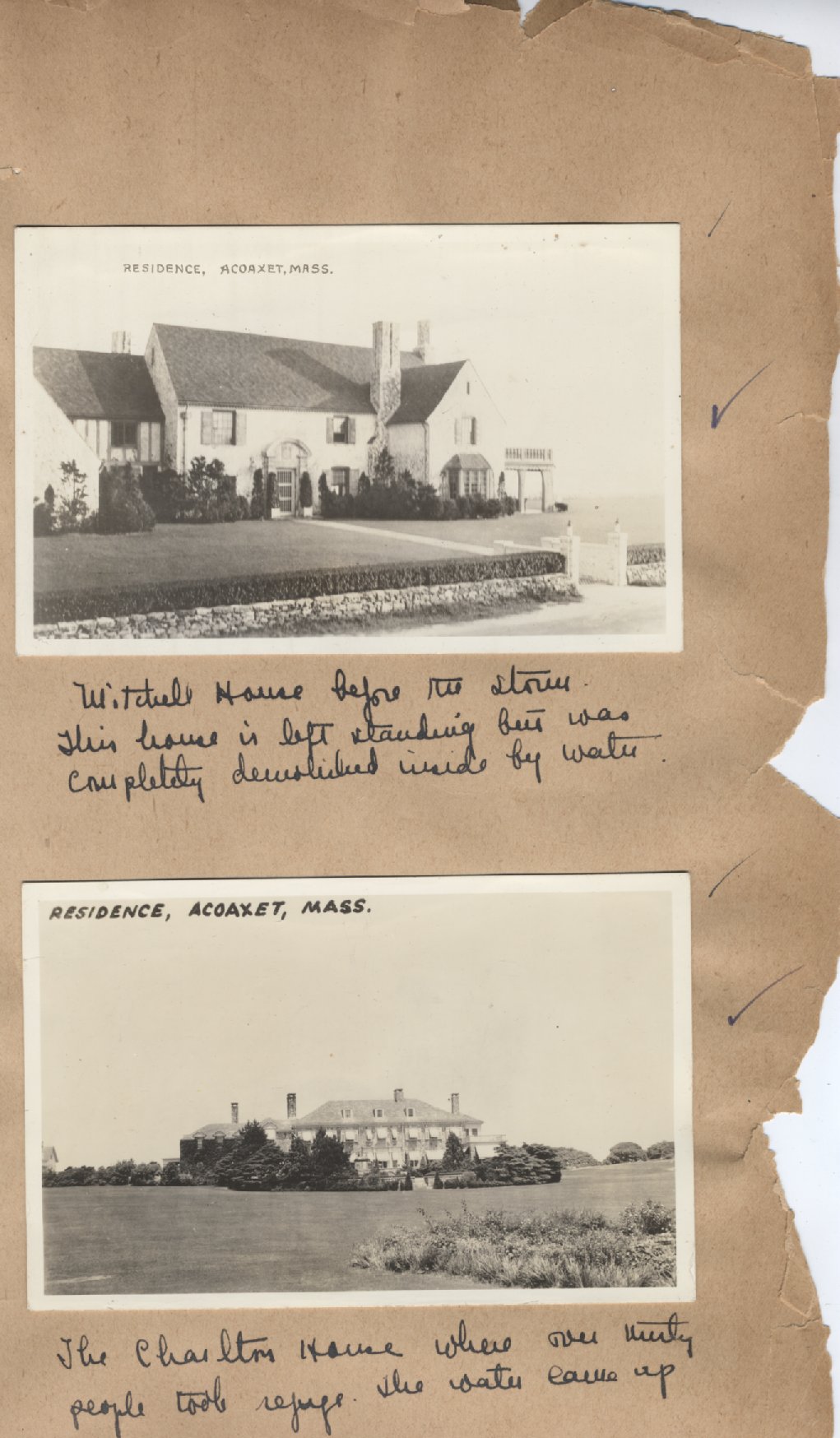 This scrapbook includes clippings about Horseneck Beach, South Westport, and Hix Bridge during and after the hurricane of 1938. (WHS 2008.015)
Arlene Gifford Collection WHS 2008.036
This scrapbook was used to save fashion ideas by clipping illustrations from Godey's Ladies Book 1881 pages. Fabric swatches are attached with the designs. Women brought both the fabric and their designs inspired by Godey's Ladies Book to the dressmaker, who cut, fit, and sewed the outfit.
In some cases, in the true Yankee tradition of frugality, scrapbookers reused printed books, pasting newspaper clippings over printed pages. Whaling logbooks and other account books were occasionally recycled and used for scrapbooks. In such cases, it is possible, under supervision of a paper conservator, to remove the clippings from the pages if the value of the original book is considered to be more significant.
In this example, the Vermont Agricultural Report provided adequate page space for countless clippings:
Westport Harbor
A social history of the Harbor, WHS 2006.081.030, donated by Harriet Barker. This scrapbook contains newspaper clippings of Westport Harbor and Acoaxet, 1900 – 1930.
This scrapbook provides an early history of the Harbor: "Concerning Westport Harbor" by Elizabeth Sowle Johnston, WHS 2008.084
This scrapbook contains articles relating Henry Worth's research highlighting the oldest houses in this area , "Ancient Landmarks of Old Dartmouth."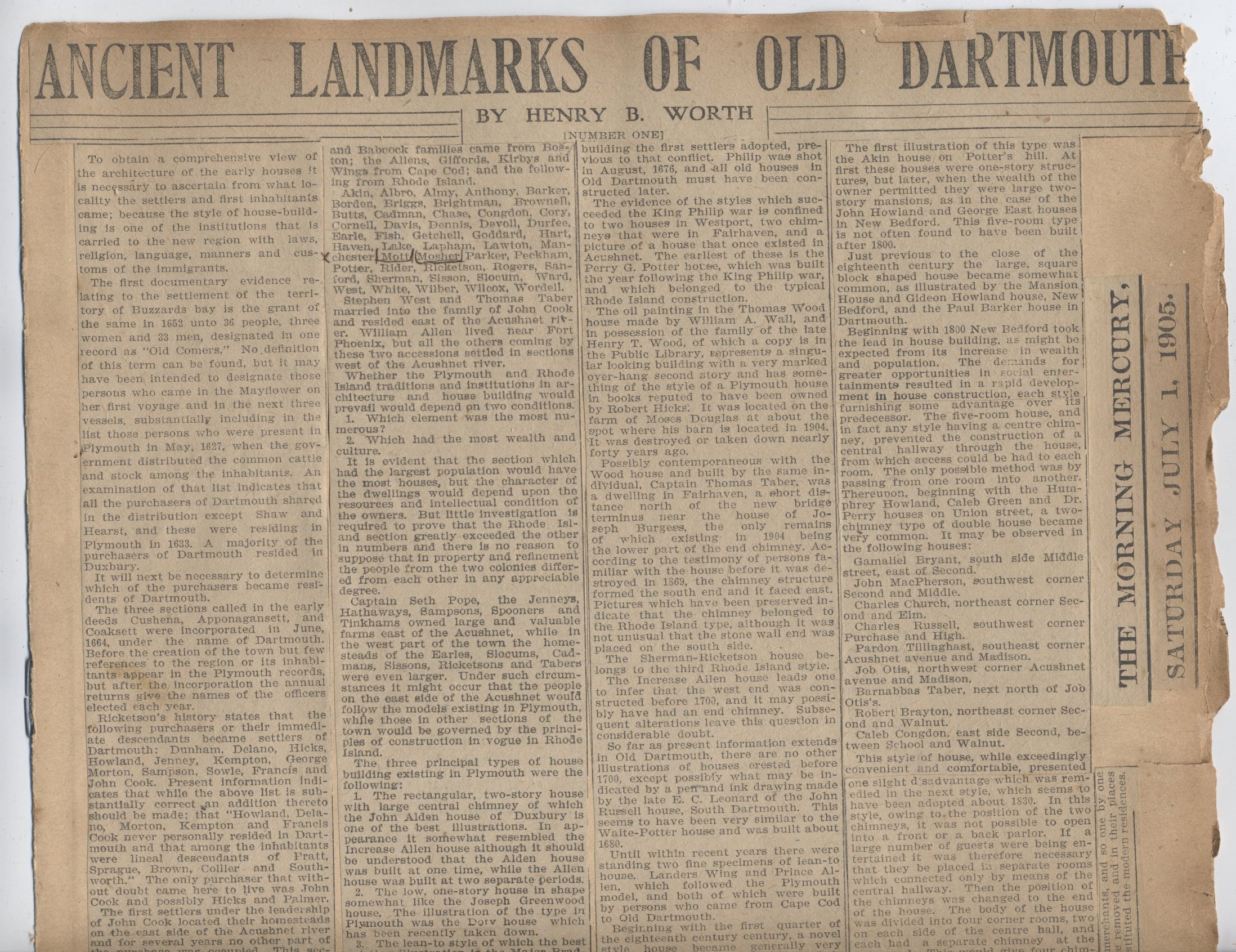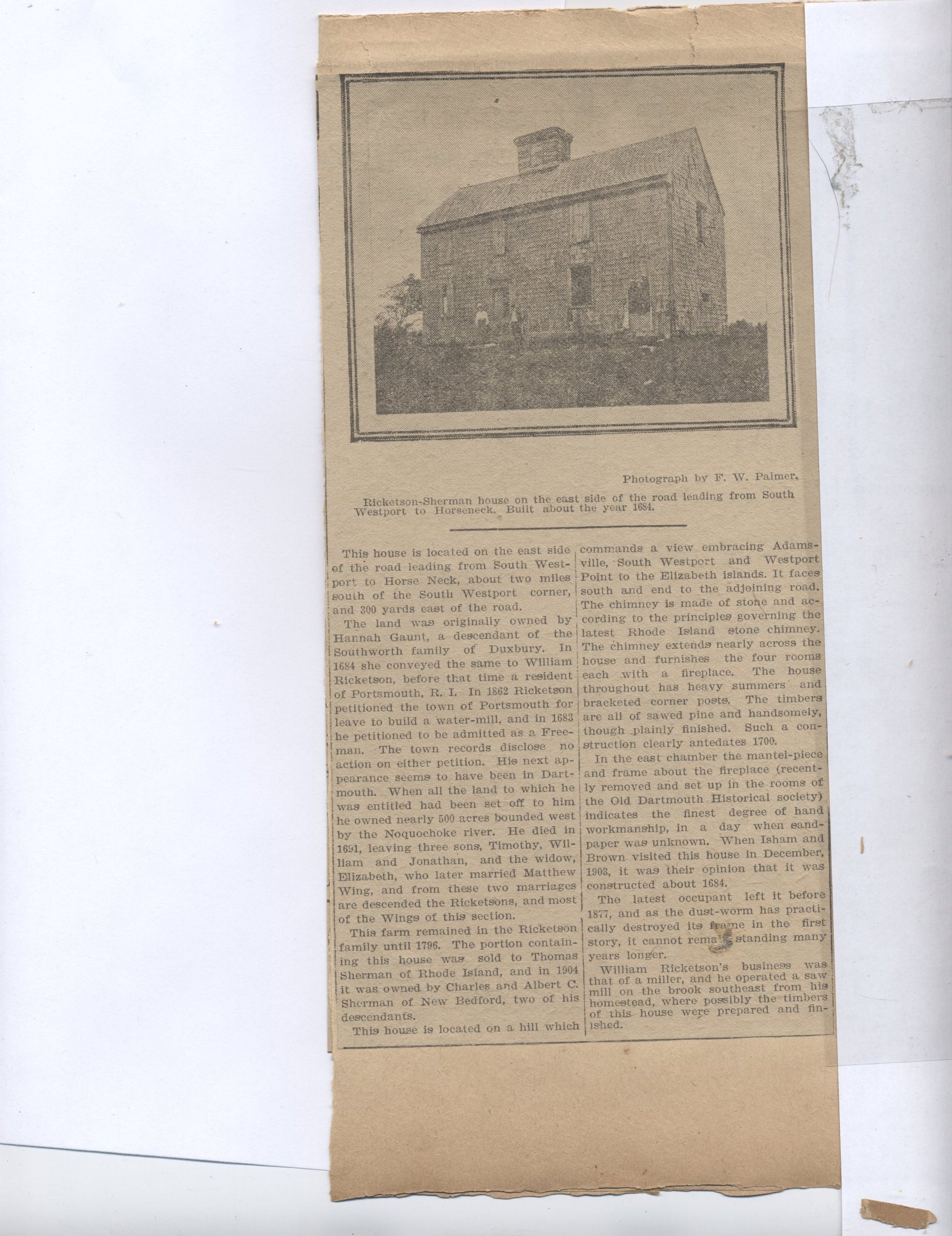 This scrapbook documents WWII veterans from Westport, donated by George Dean. WHS 2005.97.001
Miscellany
Explore our collection! You never know what you will find!
A more recent scrapbook created for the Class of 1955 reunion