Written by Betty Slade, 2021
This is the story about John Stevens, an African man who came to America in the mid-19th century not as a slave but as a free man, married a Native woman and raised a family in Westport Point.
He arrived just before the Civil War in Westport Point, Massachusetts. He married a Native American woman and lived in Westport Point for the rest of his life. He seemed to remain close to the man who rescued him, George L. Manchester and his family at Westport Point and lived near them. He had 8 children of which five, two boys and three girls, lived to maturity. They had only one grandchild who never married, so there is no descendant alive today. Their daughters moved away, two married and one remained single. The two boys remained in Westport most of their lives and never married. They died in 1955 and 1984 respectively. There are people living today who remember them fondly.
John Stevens was an African man from Annibon Island, Guinea, Equatorial Africa who by twists of fate arrived in Westport Point, Massachusetts some time in the late 1850s. We do not know when exactly.
John Stevens is reported to have come to Westport on the whaling ship Mattapoisett captained by George L. Manchester of Westport Point. Stevens reportedly swam to the ship from Annibon Island, Guinea, Equatorial Africa and asked the Captain to take him away because he "had been chosen governor of the island, but a party against him sought his life…" This story was related in a 1914 book entitled The Village of Westport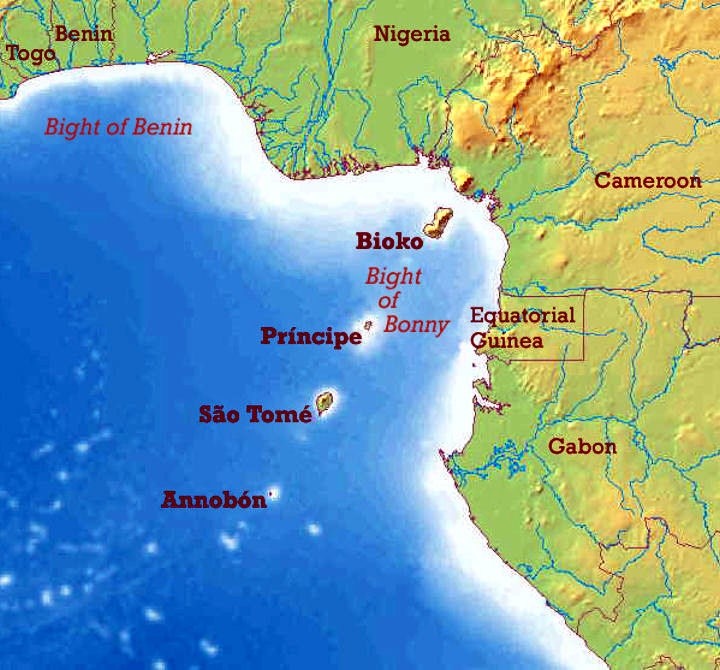 Annibon Island, Equatorial Guinea, Africa
Point Massachusetts by Katharine Stanley Hall and Mary Hannah Sowle (p.34.) Richard Paull, a well known Westport Historian in the mid 1900s related the following in a letter he wrote on April 7, 1978. He reports that he heard the following story in 1927 from Frank Brown and again in 1948 from Harry L. Howland. The story goes that on Annibon Island in the 1800s, five natives rotated the governorship, each serving until the tenth ship next touched the shore. When it was "Tom Awful or Orful's turn he asked to board the ship to avoid trouble." He was taken aboard the Bark Mattapoisett with George L. Manchester as Captain. It turned out to be the last whaler that entered Westport Point. Harry Howland related that he helped pilot it into the Point and its whale oil was then stored in the lot next to Harry Howland's house, which belonged in Paull's time to his mother (now 2043 Main). The late historian Norma Judson related him as a chieftain who was in trouble and swam out to the ship and asked for work. She said his name was Tom Awful and was given a job as the cook on the Mattapoisett. She added that his name was changed when he came to Westport.
So what is the evidence? Ms. Sowle (1893-1955) was the granddaughter of Captain Manchester (1824-1905). He died when she was 12 so she had the chance to hear this story from him. A tag inscribed with his name "John Stephen Anabon Island" has been found but no one knows where it was found.
Indications are that the Manchester family remained close to the Stevens family, living nearby and taking an interest in him. The last trip of the Mattapoisett with Captain Manchester as Master was 1857-1859 and the ship had been in the area of Anibon Island. The family consistently stated on census records that Stevens was from Anibon Island and censuses consistently show him as born on Annibon Island. In one census John's son states that Stevens spoke Portuguese. On the other hand, according to his death records in 1898 Stevens would have only been about 14 to 16 years old when the ship was there so it seems a young age for a governor. There also are no records of his arrival nor anything else about him until 1872 when he married Minneola "Minnie" Rose, a Native American lady from Gay Head, Martha's Vineyard. It is likely that he continued working on ships since he was listed on censuses as a mariner and fisherman. Despite the uncertainty of the details of his beginnings, his story after he arrived should be told. There surely were very few Africans in those times who came to America other than through slavery. It is a story of opportunity being taken and freedom gained.
John Stevens (1843-1898) was in Westport for the 1880 federal census with his wife and two children. That census reported that he and his parents were from Anibon Island, he was around 40 years old, could not read or write, was a fisherman who had been out of work for 3 months, married to Minneola (26) who was from Massachusetts as were her parents, and had two children, Betsy (4) and John W. (2), both born in Massachusetts. They were living in lower Westport Point between Charles H. Gifford and Joseph Cory, and across Main Road from Captain George L. Manchester, his rescuer.
Vital Records show that John's wife was Minneola Rose (1849 -1933), daughter of Isaac D. Rose (1811-1890), a farmer, and Harriet A. Wamsley (1821-1884), who lived in Gay Head, Martha's Vineyard and were part of the Aquinnah Wampanoag tribe on the island in the 1870 census. The 1880 census indicates that Isaac Rose had originally come from Connecticut and Harriet's family was from Massachusetts. Isaac first married Harriet's sister, Priscilla, who died soon after their marriage with no children.
John and Minnie were married on February 25, 1872 in Westport. That record shows John William Stevens as father of John Stevens, but no other information about his father has been found in US records. They lost their first infant in 1873. Their next child, Eliza Hill Stevens, was born right after the 1880 census.
John Stevens and his wife Minnie went on to have 8 children, 5 of whom lived to adulthood: two boys and three girls. Minnie and John's entire married life was passed in Westport Point and they both were buried at the Westport Point Cemetery. John worked as a "mariner", "sailor" or "fisherman" according to census and death records and other census records of him and his children affirm that he was born on Anibon Island. In the 1910 census, Leland Stevens, his son, reported that his father was from Anibon Island and spoke Portuguese. It is possible that he worked on whaling ships or other ships from Westport in his early years but that has not been clearly ascertained. Westport death records show him as 54 years, 5 months and 24 days old at his death on February 2, 1898 from heart failure in Westport.
Minnie remained at the Point and died in 1933 at the age of 83 years 11 months and 5 days. It is recalled by people passing by that she sat on her porch and seemed to be hard of hearing but greeted passers-by.
Children of John and Minnie Rose Stevens
Their first child, born in 1873 died soon thereafter. Their fifth child, Alice C, died soon after her birth in 1883, and their seventh child, Susan M., was born in 1889 and died in 1896.
Their second child, Betsy Mayhew Stevens was born on August 8, 1875 and lived to December 27, 1949. She lived in Providence for a few years and was buried at the Point along with her siblings. It is interesting that her middle name was Mayhew, a name of a local whaling family, several of whom moved to Westport in whaling days. Betsy married Samuel Cornelius Barnett in 1902. Samuel was the son of Joseph and Mary F.Langholm Barnett, and his grandfather was a free Black from Maryland. Betsy and Samuel had one son, Merton Barnett, born July 1903 in Providence and died December 1985. Merton was the only grandchild to John and Minnie and Merton never married.
Their third child John Warren Stevens, known as Warren, was born October 8, 1877 in Westport and died December 2, 1955 in Acushnet, and is buried in Westport Point. Warren was chauffeur to the George Southard family, a wealthy Brooklyn, NY family that at first spent summer months in Westport, but eventually several of the family lived in Westport. By 1889 his 90 acre estate extended from what is now Scotch Pine Lane to Cape Bial Lane with a large mansion called "The Junipers", barn, and water tower. It burned down in the 1960s, but the water tower can still be seen. Warren also worked as their caretaker. His obituary says he always lived in Westport.
When Warren filled out his WWI military registration, he stated that "Harry Manchester and George Southard" were references. Harry (Henry Albert Manchester) was the grand nephew of Captain George L Manchester.
Charlotte Fitch whose family were long time summer visitors at Westport Point told the story of how Warren Stevens saved her mother's life when her mother was a young girl visiting the Point. The event was carried in the Standard Times in late 1800s.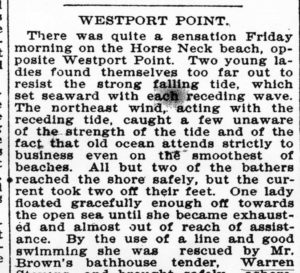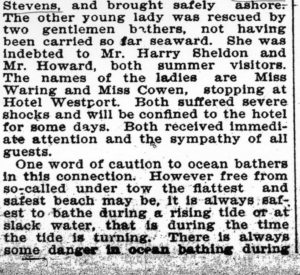 Eliza Hill Stevens was born on September 18, 1880. In 1900 she was a servant to the Samuel Roberts family. She was literate. In 1913 she married James A. Lewis in Boston, Ma. James and Eliza seemed to have lived in Cambridge for the rest of their lives. In 1920 she was a clerk in a dental office in Boston and her husband, also literate, was a laborer in a brass foundry in Boston. They lived in Cambridge at 14 Sparks Street. In 1930 she was living with James in Cambridge at the same address and not employed. They owned their own home worth $2,000. They had no children. In the Cambridge city directory, she was a widow in 1931 living on Sparks Street. She died November 6, 1942 in Boston. James and his siblings were all born in Hampton, Virginia and both his parents were from Virginia. His father was a shoemaker and then a preacher and took his whole family to Washington, D. C. It is not clear when James went north.
Ida May Stevens was born January 14, 1886. We know from the 1900 census that she was a servant in the Everett and Mary Dunham household in Westport at 14 years old, where Leland also worked, but she also was a student at the time. She worked as a maid in several homes throughout her life and retired in 1952. Her obituary in 1980 says she lived at 19 King Street in Worcester for the 5 years before her death there on February 25, 1980. She is buried at Westport Point.
Susan Minola Stevens was born May 16, 1889 and died at almost 7 years old on January 31, 1896. Nothing else has been found about her.
Leland Roswell Stevens was born October 22, 1891 in Westport and died April 3, 1984 in Fall River, Massachusetts and is buried at Westport Point. By 1910, Leland (18) was working for the Everett and Mary Dunham family as a chauffeur and living with them in an apartment over their barn. In 1940 he is with Mary Dunham and Lois Gage at the Dunham house. Leland's obituary reports that he was a lifelong Westport resident and was employed by Dunham Estates as a caretaker for 46 years so at least to 1956. He last worked at Cornell-Dubilier Electronics, retiring in 1971. He spent his later years at the house his father had bought at 1838 Main Road. He died on April 3, 1984. Leland was known to be very helpful to people at Westport Point. Nason Macomber said that Leland "picked up an ice truck" to release his leg when it fell on him as he was trying to change a tire. He is remembered to help Katherine Hall in the small library. Leland also saved the life of Lois Gaige when she fell into a well.
Warren (1877-1955) and Leland (1891-1984) remained at the Point and became well known and respected. It has been recalled by several people that Pauline Vanderhoop (1893-1979), also part of the Gay Head Native American community and a teacher, used to visit Leland and Warren in Westport. According to the Tribal genealogist at Aquinnah, June Manning, Pauline (1893 – 1979) was a cousin to Minnie (mother of Warren and Leland) by marriage. Minnie's sister Etta Rose married Leonard Vanderhoop, sister of Edwin Vanderhoop. Pauline's father, Edwin D. Vanderhoop was born in Gay Head, the son of Colonel William Adrian, originally from Surinam, and his Native wife, Beulah Salisbury. Ms Manning remembered that Leland used to visit the Totem Pole Inn in Gay Head. Pauline was four years younger than Leland Stevens and she never married.
John Stevens bought a parcel of land with a house (now 1834 Main Road) in 1896, two years before his death. That property remained in the Stevens family until 1984 when it went into the hands of Lois Montigny, a descendant of Everett and Mary Dunham who employed Leland Stevens for 46 years.
Although John Stevens bought the property in 1896, it was again transferred from Charles and Charlotte Macomber to Betsy Stevens It was transferred for $1. It is likely that there was some problem with the 1896 deed which was rectified by this one. It should be noted that Henry A. Brown was on the south and east, Israel Esser (another black family from Providence) was on the north and the road is on the West. Henry A. Brown built the Westport Hotel on his lot. Later a portion of that lot was given to the Methodist Episcopal Society.
On March 23, 1907 Betsy M. (Stevens) Barnett transfers one half of the property to her brother John Warren "Warren" Stevens. When Betsy died in 1942, she left her share to her son Merton Barnett. John Warren Stevens died on December 2, 1955 and left his share to his sister Ida Stevens.
On December 31, 1955, Ida Stevens and Merton Barnett transfer their share of the property to Leland Stevens.
Four years before his death in 1984, Leland Stevens transfers his property to Lois Gaige Montigny, granddaughter of Everett and Mary Dunham. She paid $1.
Lois Gaige Montigny inherited the rest of the property from Leland and on April 10, 1984 , Lois and her daughter Laurie Montigny Palmer owned the property. The total property was eventually passed on to Laurie and her husband Matt Palmer. An ell was added to the property which came from across Main Road on the Yeomans' property.
Neighbors of the Stevens Family: A Black Family Israel and Alice Esser
Betsey Stevens and her husband for a time reportedly helped run a restaurant in the Israel and Alice Esser home (1834 Main) north of the Stevens home (1838 Main). Israel was born in Nova Scotia and died in Westport in 1933. Alice was born in Washington County, Virginia, one of 15 children. She married Israel Esser in 1893 in Massachusetts. Israel and Alice are living at 1834 Main Road in 1901 when 1838 Main was transferred to Betsy. Stevens. In 1920 Warren Stevens and Israel Esser are both working as chauffeurs. In 1930 the Essers are still living in Westport and Israel Esser is a caretaker for a private home. Alice is running her own boarding house. Warren and his mother are at 1838 Main.
The Stevens children attended Westport schools. We have a photo of two of them at the Westport Point School.
The Dunham Family
Everett Dunham (1859-1931) and his wife Mary (Healey) Dunham (1861-1843 ) known as Sarah were important in the lives of the Stevens family and Leland became important to their great granddaughter, Lois Gaige. They first hired Ida Mae and then Leland. Everett was in the insurance business most of his life and was General Manager of the Eastern Department of Manhattan Life Insurance Company in Boston. They had 5 children: Lewis (1874), Henry Dunham (1885-1886) , Sarah "Sadie" S (1877), Susan (1885-1943 married to Philip Benjamin) and a stillborn child in Boston on October 5, 1890. Everett and Mary had a "gentlemen's farm" off Main Road in Westport and two houses on Main Road.
They bought the 60 acre farm that belonged to Alexander Hicks of the famous Hicks whaling family at his death in 1895, for $2,000 now 1667 Main Road. The original Hicks house was demolished and replaced by Everett Dunham about 1900 and was named Shoreland Farm.
The house passed to Mary Dunham after Everett died, who left it to their daughter Sara Dunham Mosher. The large revival house at 1554 Main (the Brook House) was built to house his farm manager and farm workers and was later rented out. In the 1900 census, we see the first evidence of the long relationship with the Stevens. Ida Mae Stevens is working as a servant but also attending school. Very interesting was the fact that three men were working as farm laborers and included in the household: George Peckham (24), Samuel A. Boan (24) and Frederick Wordell (28). Only one Dunham child, Susie E was with them. In the 1920 census, Leland was living with Everett and Mary on Adamsville Road. Everett was the manager of a Real Estate Company. In 1930 Leland is with Everett and Mary on Valentine Lane as well as a farm laborer, 21, Benjamin Bowles.
Gwendolyn "Sadie" Mosher
Sarah Dunham was born September 1, 1877 in Fall River, Ma. She married Harry G. Mosher in 1896 in New Bedford. Their daughter Gwendolyn "Sadie" Mosher was born in 1898 and with her grandparents in the 1920 census in New Bedford.
In 1925, Gwendolyn Mosher, 28, married Earl R. Gaige, 24, on Dec 10, 1925 in Palm Beach, Fla. He was manager of a bank in Cambridge, Ma. She had three children with him, Jean Gaige who died before 1 year old in 1927 and Lois Gaige, born 28 January 1931 in Cambridge, Ma. Earl is with Gwendolyn and his sister Ruth in Cambridge in the 1930 census. In 1942 he is in Long Beach, California where he died in 1944. Sarah married John H. McClung on June 25, 1946 in Manhattan, New York.
In the 1940 census, Lois Gaige, age 9, is living with Mary Dunham, her grandmother and Leland Stevens is still there. (She was born on January 28, 1931 in Cambridge, Ma. She died July 27, 2020 in New Bedford.) In her obituary, it states that her parents were George and Agnes Whittle Raposa, however the truth is that the Raposa family essentially adopted her because she had been abandoned by her mother. Lois who was a nurse took care of Daniel Raposa who had celebral palsy and became very close to the Raposa Family.
Lois married twice and outlived both her husbands. She married Donald Frank Montigny in 1953 and had one daughter, Laurie J. Montigny and one son named Donald J. Montigny. Lois married secondly Adonias Roger Guay (1921—2001) with no children. Her daughter Laurie married Matthew Palmer. They now live at 1838 Main, the Stevens homestead.
Commemorating the Stevens Family in 2008 at Westport Point Cemetery
When I first learned about the Stevens family and I was working on local cemetery records, I wondered where they were buried. I asked Wes Norman, the cemetery director, if he knew and he did. He said they were at the Westport Point Cemetery – John, Minnie and their children and he would have to show me where they were buried because there was no stone. I checked with A. J. Potter Funeral Home and they had excellent the records.
I decided to have a stone placed there along with the proper ceremonies. Wes found a proper stone and the Albanese Monuments engraved Stevens on the stone. On a very cold day about 50 of us gathered at the cemetery, with Durwood Vanderhoop from Gay Head Wampanoag community representing Minnie and Carl Cruz representing John, we had a very fine ceremony.
Afterwards we gathered in Howland Hall at the Westport Point United Methodist Church and several people talked about their memories of the family – the most poignant one was by Charlotte Fitch. She told us how Warren had saved her mother's life when her mother was just a young woman. Roxeanne Vanderhoop told us about Pauline and Leland's long standing friendship. Roxeanne wore some clothing that had belonged to Pauline. This event was taped and is now a vimeo on the Westport Historical website.
Appendix
For a list of the trips by the bark Mattapoisett and other whaling information see:
https://whalinghistory.org/?s=mattapoisett'
The bark Mattapoisett was built in Mattapoisett, Massachusetts in 1836. The trip to the Atlantic in which George L. Manchester was captain was from July 30, 1857 to July 9, 1859, They brought back 224 barrels of sperm oil and 23 barrels of whale oil. The owner was Henry Wilcox. The ship departed Westport and returned to Westport. There was no crew member named John Stevens. There was a crew member named John C. Williams with no information about him nor his role on the ship. A coincidence is that the father of the groom is stated to be John William Stevens at John Stevens' marriage to Minnie Rose in 1872.
Betty Slade, April, 2021