Date: Every Sunday until September 2, 2017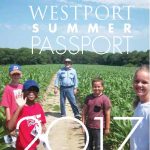 The Westport Summer Passport 2017 is a self guided adventure that will take you to six of the most beautiful and interesting natural and historic spots in our town. You will visit:
Brookside Conservation Area, 1013 American Legion Highway
Forge Pond Conservation Area, 214 Forge Road
Handy House, 202 Hix Bridge Road
Horseneck Lifesaving Station, 241 East Beach Road
Mill Pond Conservation Area, 62 Reed Road
Noquochoke Conservation Area, 421 Pine Hill Road
Using the passport, you must follow the provided clues to find hidden boxes at each site and collect six unique stamps in your passport. When you have six stamps, you are eligible to enter a drawing for a special prize.
Download your passport HERE