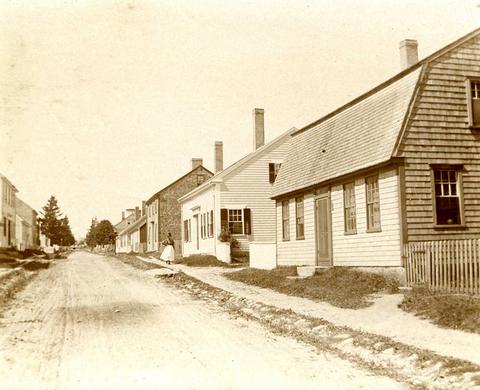 [Westport Point looking north from the collection of the WHS – Click for larger image.]
Westport Point, offered one of the most protected harbors in the region and by 1855 it was home port to over 18 whaling vessels. It had gradually developed as a self-sufficient provisioning center for whaling voyages. Blacksmiths, coopers, ship carpenters, sail and rope makers, saltworks and saw mills congregated around the wharves to service the whaling industry. Isaac Palmer operated a store and sail loft, small whaleboats were built by John Sowle, and harpoons, lances and blubber hooks were forged by blacksmiths , Simeon Macomber and Darius Davis. Some Westport whaling vessels unloaded their oil at New Bedford on their return but many braved the hazardous entrance to Westport harbor. The Point also served as a temporary storage area for oil when whale ships returned.
Thomas Mayhew, a ship's agent for many Westport whalers, built what is now known as "Lees Wharf" in the early 1800's and extended it in the 1830's. Its construction had been opposed by fellow ship owner, Isaac Cory, who perhaps feared the business competition. Almy's wharf and Cory's wharf were also built in the early 19th century.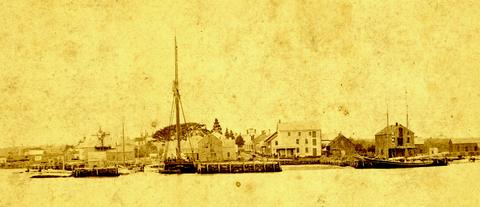 [Westport Point wharfs from the collection of the WHS – Click for large, scrollable image.]