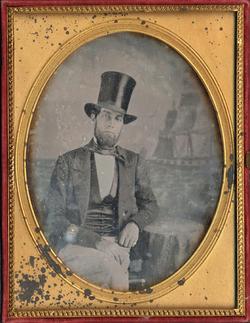 [Portrait of Edward S. Davoll, NBWM ]
"My men, you must be well aware that the object of this voyage is to get a cargo of oil," wrote Captain Edward S. Davoll to the officers and crew of his whaling vessel. Davoll (1822-1863) was master on only five ships, and made only nine voyages in his short career as a whaleman. From his writings, we can see that Edward Davoll was a precise and disciplined man, who left little to chance. He was deeply cognizant of his and other's responsibilities, carefully noted and assessed character, and ensured that his will be carried out through detailed instructions. As he communicated to his officers in his "Specific Orders,"* "When I pull, I shall expect you all pull with me, not against me, and when we all pull together with a hearty good will there is easy times for us all and a bountiful harvest in store for our mingled exertions." His Mate was cautioned, "Be guarded and guided by your best thoughts, holding your blows as long as possible. Use other ways first, gentle means before rash ones."
Writing to his wife, Lizzie, whom he instructed in financial affairs during his absence on a whaling voyage, he also has similar advice, "…be good to the child and not be passionate and abusive to him. Draw a straight line and keep him on it, which you can do if you adopt the right principle. Whipping will never do. And you must stop it at once and use mild and gentle means which is far the best."
Edward Davoll expected respect, and was willing to bestow it in return for the prompt and thorough "execution of my orders." He took pains to understand his men, their tasks and to manage them accordingly. In the log of the R. L Barstow, he assesses the "Character of Officers and Crew:"
[At right – extract from log of R.L Barstow, NBWM]
Mr. Brown, Mate, Good man to kill a whale when he gets alongside of one but awful slow in all his movements. No "Officer whatever," poor "Sailor" and his general faculties for carrying on work very poor. Given to habitual drunkeness. No care taken.

John Bass, Steward, Tip top Steward and good man otherwise. Very handy about the ship when whaling and is always ready and willing to render his assistance in all things. Gets blue when in Port which is rather perplexing at times. It being the only failing the man has.

Henry Saunders, Greenhand, An active and smart lad, quick to learn and has gained as much knowledge about the ship as any green hand on board. Will in time make a tip top man. He wants a strict Master over him to keep him straight. Still there is nothing very bad about him.
The R.L Barstow had a poor voyage. Whaling expert Richard C. Kugler has proposed that as a result, Davoll then accepted command of the Ship Brutus, a suspected slaver. Arrested for suspicion of slavery in 1862, he was never brought to trial. Dying of typhoid fever, at age 40, Davoll's short whaling career was over. It was a sad ending for a man who had once urged his crew to "… sing out for every thing that you see. Always sing out at the top of your voices. There is music in it."
Edward Davoll's Career as a Whaleman
Brig Elizabeth, Westport, 1841-1842
Brig Mexico, Westport, 1842-1843
Bark Cornelia, New Bedford, 1843-1846
Bark Cornelia, New Bedford, 1846-1848, Master
Bark Cornelia, New Bedford, 1848-1850, Master
Ship Iris, Master
Bark R.L. Barstow, Mattapoisett, Master
Ship Brutus, 1860, Master
Schooner Palmyra, 1862, Master
*Quotations taken from "The Captain's Specific Orders on the Commencement of a Whale Voyage to his Officers and Crew, Captain Edward S. Davoll. Old Dartmouth Historical Sketch Number 81, New Bedford Whaling Museum, June 5, 1981
A poem sent by Edward Davoll to Elizabeth L. Brownell:
THE PARTING
We part now, the tenderest friends,

Thou for the ocean main

I in loneliness to stay,

Oh when to meet again.

My heart is sad for thee,

For lone thy way will be, dear,

And oft they tears shall fall,

For thyself and me.

The music of thy gentle voice,

I'l loose for many a year,

And the merry shout of thy approach,

I'l list in vain to hear.

Yet my spirit clings to thee,

Thy soul remains with me,

And oft we'l hold communion sweet,

O'er the dark and distant sea.

And who can paint our mutual joy,

When all thy wanderings o'er,

We both will join in pleasures name,

At home to part no more.

Then gird thine armour on,

Nor faint thou by the way,

Til God shall roll the day around,

When thou shall with me stay.