Editor's note: Al Lees sent us this account by the late Richard K. Hawes, with photos. It was written just six days after the events while memories were still fresh. Mr. Hawes was a well-known Fall River attorney whose summer home was in Westport Harbor. We do not know who took these pictures, but this is simply one of the best accounts of the '38 hurricane I have read. I found the attudes of those caught in the storm and their foreknowledge that this was possibly a West Indian hurricane especially interesting. Greg Stone
BOOK READ TO SOCIETY BY AUTHOR
Eye Witness Tells How Homes Were Swept Away by Waters.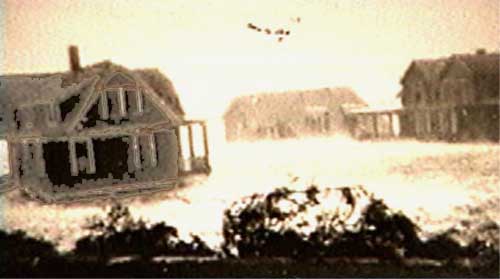 THREE ARE DROWNED
Account Prepared To Give Record of Catastrophe For Future Use.
A GRAPHIC AND PERMANENT RECORD OF THE DESTRUCTION WROUGHT AT Westport Harbor Sept. 21, by a tidal wave and hurricane was offered last night by Richard K. Hawes at a meeting of the Fall River Historical Society.
Mr. Haws, an eye-witness of the disaster, recorded in detail what he saw, knowing the Harbor throughly, he was well qualified for producing this record. The reason for this account, said Mr. Hawes in his preface, is that it was written principally as a record for the future.