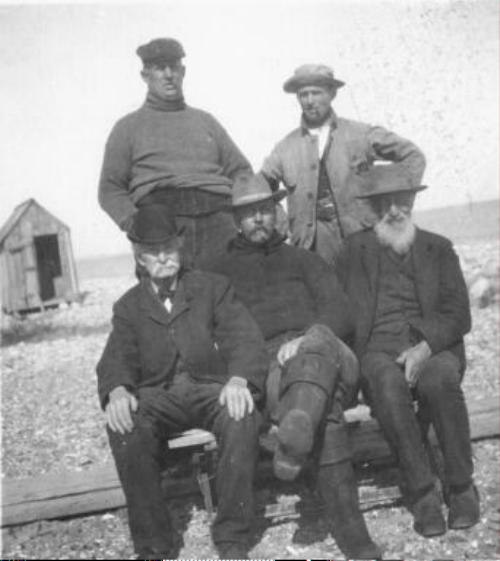 Life-Saving Staff at Station 69 at Horseneck Point??? The identities of these men is not known but speculation suggests they may have been part of the volunteer crew who manned the Life-Saving Station at Horseneck Point where East and West Beaches converge. The 1895 Map of Westport shows the Life-Saving Station with the cottage home of Burden Head nearby. It has been suggested that Burden Head oversaw the Life-Saving Station and its crew but this has not been confirmed in historical records. In fact, the Life-Saving Records indicate no rescues ever originated from Station Life-Saving 69.
Station 69 has a date of 1888 on its historic plaque. Originally the station was probably one of many such stations constructed along the rugged Massachusetts coast by the Masschusetts Humane Society to provide rescue, aid, and shelter to vessels and crew in danger of shipwreck. The Massachusetts Humane Society, organized 1785, was the model for the Life-Saving Service funded first by Congress in 1871. The Horseneck Point station #69 became a link in the coastal chain of stations of the Life-Saving Service. In 1915 the Life-Saving Service became the U.S. Coast Guard.
Westport Historical Society would welcome information, anecdotal or written, pertaining to activity or personnel of the Life-Saving Station or Massachusetts Humane Society in Westport.