Handy House is open 10 AM – 4 PM every Saturday July 8 – October 28
Tours every Saturday at 11 AM
---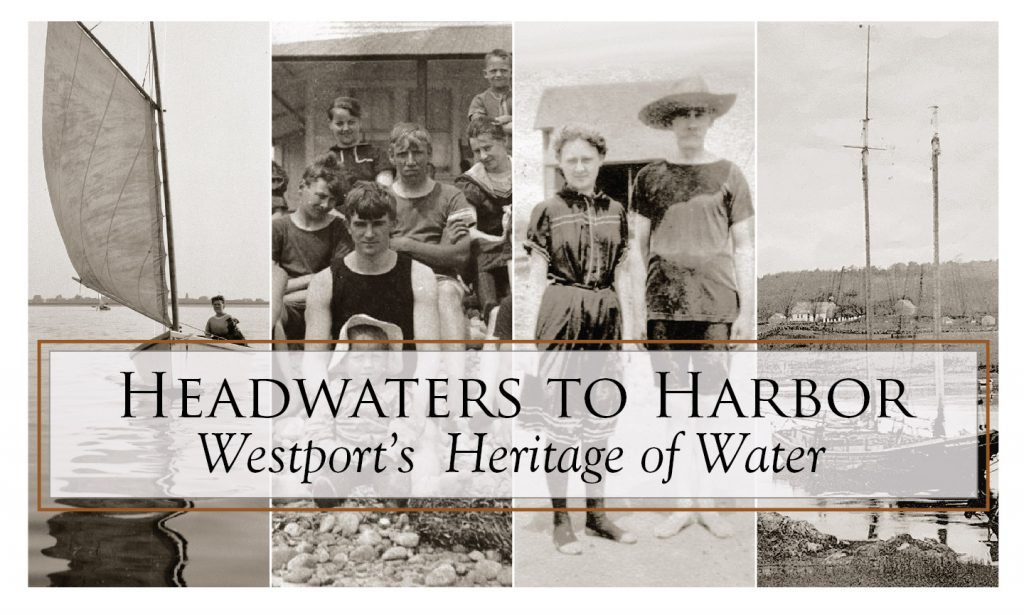 Special exhibition: Headwaters to Harbor, Westport's Heritage of Water
10 AM – 4 PM every Saturday July 9 – October 28 at the Handy House, 202 Hix Bridge Road
A visual river journey through time exploring both the east and west branches, harbor and ponds of Westport.
A walk down East Beach using maps and photographs to document the community that once existed before the hurricane of 1938.
A look inside the Cory Store to learn more about shipbuilding activities in Westport.
A sword-fishing expedition using photographs taken by David Allen in the 1980s.
Supported by the Westport Cultural Council through a grant from the Helen E. Ellis Charitable Trust administered by Bank of America.
---
Family Reunion
What do a busy mother, a popular doctor, an active teenager, a successful businessman, and a curious local historian have in common? They all lived in Westport's historic Handy House over its 300 year history! Come learn about them in this fun and free family activity based on puzzles, with a backpack filled with tools and a bit of mystery that your kids will love!  It's a unique family reunion with a very special guest! For kids aged 5 – 12. Free.  Self guided.
This project is supported by the Westport Cultural Council through a grant from the Helen E. Ellis Charitable Trust administered by Bank of America.
---
Summer of '17 Adventures for Kids at Handy House!
Wednesdays in August, 10:00 – 11:30 am; ages 10-15 years old, space is limited.
$12/session for WHS members; $15/session for non-members
For information and to register, click here
---
 10AM – 3 PM
Saturday September 30 2017
Rain date Sunday October 1 2017
Handy House Artisan Fair, organized by the Westport Historical Society, showcases 30 local craftspeople who specialize in skills and traditional crafts commonly practiced in the 18th and 19th century.
Traditional craftsmanship, from blacksmithing to green woodworking, is still very much alive in Westport. The Artisan Fair offers a rare opportunity to meet these craftspeople, learn about their skilled hand work and human powered technologies through hands on demonstrations. This year's fair features, amongst others, highly skilled woodworkers, a blacksmith, Native American basket makers, indigo dyeing, and stone wall building. Some artisans will have their work for sale, so it will also be a chance to get a jumpstart on holiday shopping! This event not only preserves and perpetuates knowledge about traditional crafts, but is also an opportunity for the community to reconnect to its own history, to visit the Handy House and to celebrate the special heritage of the town of Westport.
---
 Dr. Handy and the Spooky Spirits
10 AM – 3 PM Saturday October 28, 2016 at the Handy House, 202 Hix Bridge Road
Little witches, wizards, ghouls, ghosts and goblins are invited to converge at the Handy House to try out their magical skills inside the historic house on Hix Bridge Road. Come in costume! Free.
---