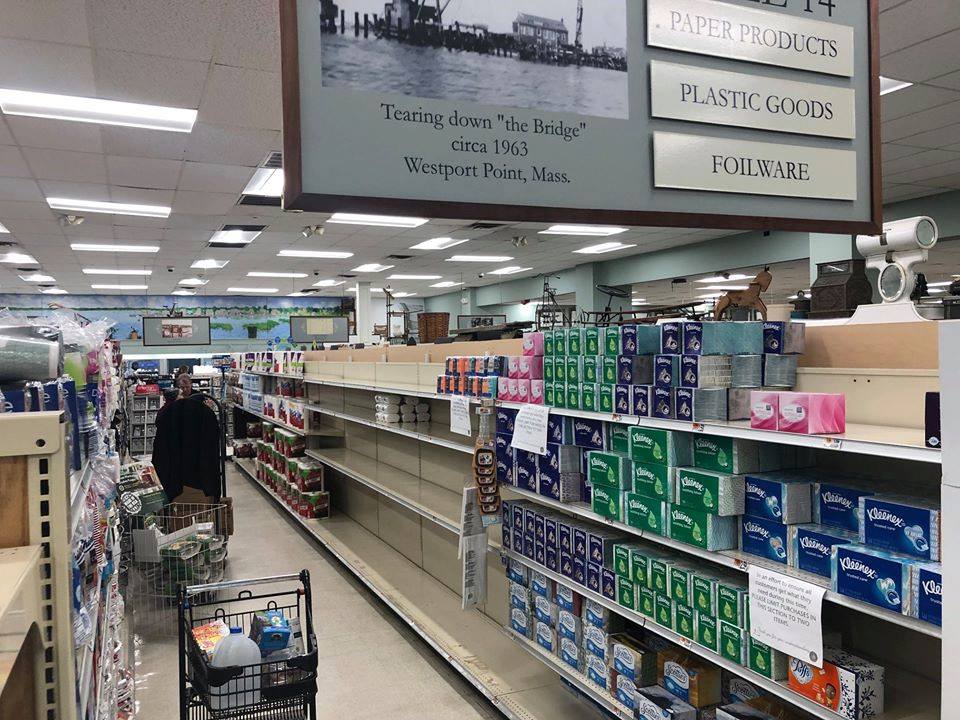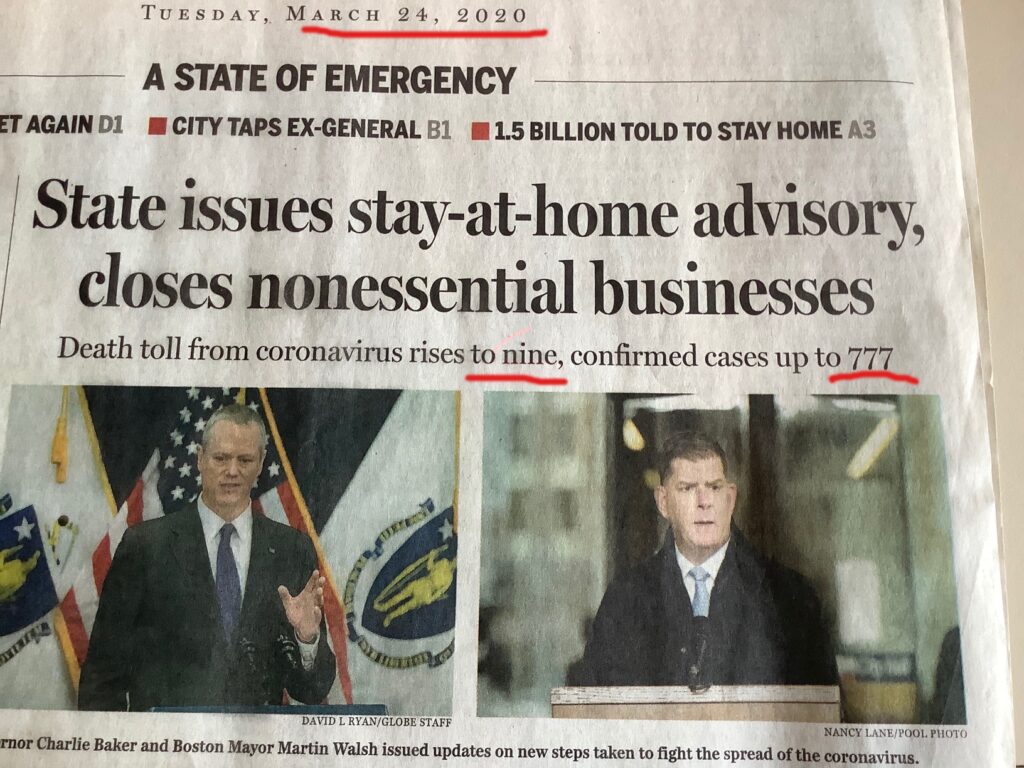 In April 2020 we asked for Westport residents to report on their experiences of the Coivd-19 pandemic which was in its early stages. These are the comments made by 8 individuals
Can you describe how your personal situation has changed since the Covid-19 crisis hit our world? Do you remember the day when you realized everything was different?
Not gardening yet (partly because of weather and ticks), not sailing yet, not at the beach, now meeting on Zoom and inferior copies. Yes, the day was when my very smart, chemical-engineer-with-many-years-at-biomedical-firms friend, Jack Prior, told me that he and his wife were turning down the invitation to go to the May 9 ACLUM Banquet in Boston there would be no such event as a result of what was coming. He then showed me charts that made my head spin and my stomach sink. That was by email on 2/26/20. My wife and I began gradually social distancing from that date on.
Psychologist retiring in June, sharing my house with my friend Mary. I was only seeing three or four clients a week but was doing a lot of volunteer work and was out and about a lot.
We are having groceries delivered and friends are bringing extra treats. I miss going out for coffee, running out to Lees, walking on the beach. When the town transfer station said they couldnt recycle five cent deposit bottles anymore in the apothecary couldnt get a script I needed I knew the screws were tightening.
I had a doctor's appointment at Rhode Island Hospital in early March, everyone was dressed in PPE and screening everyone. By the time I left,I knew something bad was coming.
Personal situation as changed as I am more conscience of my where abouts, distance from people, interacting with Mom! hand and body washing more than ever!
I remember thinking that the COVID-19 was nothing more than another form of the Flu. I didn't think it was anything that serious at first until I started hearing more and more people across the U.S were gettting it. And different states were asking people to stay home if they could. My business suddenly got "quiet"…no one was making appointments, no one coming was coming into the business to shop. We decided (my sister and I) to close the shop (March 19th)for at least a week till we knew what was going to happen and before Governor Charles Baker called for all Non-essential businesses to close. Then when the Governor did call for non-essential businesses to close starting March 23rd till April 7th I felt like "OK, it's OK we'll only be closed for a little over two weeks and everything will be fine" But then when Charles Baker announced that non-essential workers close and stay home till May 4th, then I felt we were in a dream or that this was just a big early April Fool's Joke. Nope!! A customer of ours in the meantime has gotten the virus and as of today, April 7th they are doing better. But unfortunately someone my fiance knows, a husband and wife has passed away from the virus. The husband has had underlying medical issues which could have contributed. It's just sad all over.
My employer sent those of us who could home to work remotely on March 12, now on April 15 I'm wishing I had grabbed my monitors, docking station and work chair from my office, we didn't realize it would be so long with just a laptop. On March 13 I went to the grocery store to stock up and nearly all the meat was gone, just nothing there. It was one of the strangest shopping experiences I have ever had. It hit me on the Town side when legislation passed to allow remote meetings for town business (previously not even legal). I had pretty short notice to figure out how to even get remote meetings going and to decide whether the March 16 meeting could have an in-person component. I think the idea that the government was acting so quickly to do some unprecedented things was what made it seem like it was going to be prolonged and some scary things were unfolding. I was amazed when the governor ordered non-essential businesses to close, I remember thinking how is that even possible and how is it legal?
The dramatic change for us was arriving in Longboat Key, Florida in early March where we were jolted with beautiful mid-80 degree weather and a deserted environment. Most of the vacationers in the area had departed and we were immediately self quarantined automatically. Walking a deserted ocean front beach and being the only one at the pool made me feel like i was the only one in the area. And watching the nightly news was the shocking reminder of being isolated in paradise.
I realized it was a different world when i resorted to making my own mask out of a Swifter refillable cloth and some yarn. And with no where to go and little to do, it was a period of
reading, knitting, drawing, swimming and walking. Almost like being spoiled on a deserted island which was one reason why we extended our stay for another month.
What does a typical day look like for you now, today on the day you are writing these words?
We are mostly at the computer, corresponding, meeting, getting news, doing research, having virtual gatherings with family and friends. We are lucky to have a home theater and a gym and a workshop in the house. So we watch TV news, entertainment, and movies. We work out regularly, once a week with our trainer guiding us on FaceTime. And I catch up on my DIY to do list.
I wake up early still and will walk on Drift road. I have three or four art projects going, I am working on a puzzle, Im cooking more, and I am beginning to do yardwork and gardening.
My husband is telecommuting. I spend time , every day, trying to order food and medicines we need. I am working on my Ancestry tree, cooking a lot, taking the dogs out. binge watching from all the streaming services,Ebay, and watching CNN.
basically the same at Home, reading, watching television,yard work, house organizing ,worrying about having to go grocery shopping or Dr Appointment not able to be kept unless emergency now for patient protection!
It's weird being home from work knowing that I'm not on vacation or sick with a cold. I find things to do like Spring Cleaning, crocheting, watching TV/Movies or catching up with my Family History. Couple nice days we had this week I went outside and cleaned up all the twigs in the yard. Only time I go out is if I need groceries and then we wear masks and gloves.
Get up around 6:30, have some coffee check the news websites, social media, chat with family (trying not to watch tv news), wake up my son who is doing video conference school from 8-1. Log in to my work sites, participate in remote meetings and do work from 8-12:30, grab a sandwich or salad 1-3 more work meetings or writing – at 3:00 I have an emergency management team call with the town departments, check in with the Town Administrator, tonight I have a remote school building committee meeting at 6. Then I'll probably watch Ozark or Schitts Creek on Netflix. I sometimes exercise with my daughter or break for a board or card game with the family (we love Settlers of Catan and Pandemic).
Actually, one of the few differences is the cold weather since we still are quarantined having arrived from Florida only 5 days ago and continue to entertain ourselves at home by reading, knitting, drawing, and walking the yard to check on the progress of the garden.
How do you and the people in your household cope with fears and anxiety? How do you help your children? Please give examples of activities and coping mechanisms that have become meaningful to you.
We have a new (one-year-old) dog as of Valentine's Day. She makes a good deal of difference in our lives. We keep busy with almost all the things we were busy with, since, thanks to modern technology, we can do almost all of them from home. Because everyone is at home, we actually get to spend more time visiting (albeit virtually) with family and friends. We have gotten involved in some new community activities needed as a result of the pandemic. Our children are grown, and none live in the area. We would normally be visiting them at various times during this season or they would be visiting us. We were supposed to have the whole family gather in Annapolis, MD for Easter/Passover, but that is off. We may have a seder on Zoom. We are hoping that we can still be all together here in Westport for my birthday in August.
I have three or four art projects going, I am working on a puzzle, Iâm cooking more, and I am beginning to do yardwork and gardening.
Service to others gives meaning to my life and continues to do so now. I hope to volunteer to be part of the partners in health tracing program
My children are grown. One son has been laid off because of Covid-19, and his roomate is sick and awaiting test results. I have had care packages sent to my children, as well as Easter dinners, and we talk on the phone and Email , My stress reducer is sugar, not great, but not illegal.
Keeping the same routine as close to it as possible. Having a positive outlook, doing puzzles,less news observation, reaching out more on line to people!
It's just my fiance and I in the home. We just make sure we wipe everything down with Lysol wipes that we buy and make sure we wash our hands. For us, we have to stay positive because we know we WILL get through this. Every bad situation there's always a good outcome. It may take time but we'll get there. Stay positive and just know we'll be OK.
My daughter knits a lot and she's encouraged me to start but I never really made time for it. She convinced me to tackle a project so I'm knitting my first real sweater. I find the repetition, counting and tactile experience good at keeping my mind off things. I can't disconnect from the news because I've had to make decisions like closing town buildings, the beach, interpreting the latest orders, etc. but I try to get them online in brief spurts rather than on tv news. My son is more technical than I am so he doesn't need any help with his school work so I haven't experienced what those with smaller children do about having to monitor and support younger kids. Mostly at home we try to give each other space to be upset or anxious, talk about what we might be able to do, and then try to have a lot of grace when someone gets angry or irritable. I find I'm more anxious about the economic impacts longer term and how to make decisions on behalf of the town than I am about getting sick. I like to plan and prepare for things like trips, etc. and now there's just no way to plan just about anything.
Encouraging the children to stay positive and offer support where necessary. Fortunately, they have all kept their jobs but naturally are anxious of the future. We try to focus on staying healthy since we're in the targeted age group for the virus and think about plans for "after this passes" time period. One of my grandchildren asked us if we had ever gone thru anything like this before, and my husband remembers the victory gardens after world war II and i mentioned the polio scare in the 50's which i can vividly recall.
How is the community in which you live dealing with this crisis? What is happening in your community that is giving you hope for our future? What is making you feel positive?
I am a bit disappointed in the government's response to the crisis. However, this community is full of people who are generous and public spirited, and many are rising to the occasion to help each other out so far. Despite the distancing policies, people have so far been willing to volunteer to run errands for the elderly and others who are at greatest mortal threat from the pandemic and do other similar things.
WESTPORT Quaker meeting is very important in my life. We are staying connected unzoom and this is a major support for me.
I live near the beach and there has been an influx of people, which has the residents worried.
I am glad to see so many people willing to help.I love all the innovation. I saw someone make a mask with a 3d printer, a Duncan Donuts cup and an ace bandage. Amazing. I have been sending food, treats and toys to Forever Paws animal shelter in Fall River, because it is underfunded in the best of times and 2 of my dogs came from there.
My grandmother had the Spanish Flu in 1918 and almost died. But she lived to be 98. She never forgot, but was always doing something to help the sick. Maybe we will remember and be better, more appreciative, for having lived through this.
The town is dealing with the crisis, tremendously well keeping the residents up dated on what is open or closed, where to get information and the support network setup!
This community is awesome! I've seen posts on Facebook of people offering their services to go shopping for people if they can't go out because they have health issues. Restaurants have remained opened but only for take-out and they have come up with food kit packages for kids to make their own pizza for example and cook at home to make it fun while they're home from school. Then someone came up with a "Bear Hunt of Massachusetts" on Facebook where they ask people to put Teddy Bears whether drawn or stuffed in the lawns/window so people can take their kids for a ride and spot them in different towns. Even though there's "Social Distancing" we can at least still for for a ride in our cars.
There are so many people looking for ways to help others. We have more people trying to help than we can find people who need help. People are being creative and flexible and patient and working together to solve problems. It also has amplified Westport's ongoing problem of "us" (the full-time residents, or even the multi-generational residents) vs. "them" (the people who have vacation homes here). Particularly early on people were angry about New York license plates on cars at Lee's Market. I try to remember that a lot of anger you see is really about fear but it's sometimes hard to keep that in mind. I like to focus on the people out there doing good things, the teacher parade, the stopping at the store for someone else, making face masks. That's what keeps me positive.
Support from our neighbors has been comforting and has made us rethink about leaving the city of Boston where we also live during the fall. Coming to Westport for the past 29 years for the spring/summer/fall months has become our refuge for peaceful and more relaxing environment.
What do you think this crisis will change about our world, both for the worse and – more importantly – for the better?
At this point, I would not hazard a guess. Until recently, I would say that I have always been my mother's son — optimistic under all circumstances and always trying, and almost always succeeding, in seeing the best in people. I am finding it hard to maintain that outlook. I was born in the Great Depression, saw the USA pull together to win WWII, lived though a post WWII era of great economic and social progress (with a lot of glitches along the way), only to see a frightening retrenchment as regards much of that as a result, in my opinion, of people losing that post WWII sense of unity. Worse than the pandemic, in my opinion, is the current threat of constant exacerbation of that loss along with resentment from those who feel that, not only are prized aspects of their cultures under threat, they are looked down upon when they express their despair.
WESTPORT Quaker meeting is very important in my life. We are staying connected on zoom and this is a major support for me.

I hope we move towards a more caring infrastructure with healthcare for all since its clear now that what affects one of us effects all of us.
I hope people will value each other more, And prepare better. Too many uninsured, without medical help, without a secure food supply. That should not happen, especially in such a rich country.
unfortunately it will have people rely more on technology, less direct face to face communication, less contact physically, less trust. People may become more pleasant to each other and have more respect for each other!
I hate to think of the worst but it's possibly people will fall into debt from not working even though we're suppose to be getting a stimulus package and businesses may close if they can't get some sort of financial assistance. The positive side, I think people will be more grateful, be more compassionate and considerate towards others.
I'm hoping that it makes more clear that everyone has a part to play in the society we have and we're all interconnected. You never really heard about grocery store clerks and stockers being heroes but they are front and center now. I think we really will focus on equity in health care, a safety net for people who are trying to work and can't, and on where our essential goods are produced. I think we'll huddle in our homes more and get things delivered and order online more, retail shopping was hurting anyway, this may be the death of retail. I worry that we'll change for the worse in avoiding "strangers" being mistrustful of other people and afraid of the government and experts we'll need to figure out a path forward.
People will (or should) regain a sense of priorities and what is really important in their lives.
An increase in charitable endeavors and appreciation for what makes a better world for the future generations.

What message would you like to send to the world twenty years from now about this time and place?
If you were white, male, sexually straight, and lived in the United States, the period from the end of WWII until now probably provided the best life available to the common man in the history of the world.
I've always been aware that we are a global community and this experience heightens that awareness
Take care of each other. And, probably, I miss you so much.
World events, situations, crisis will happen, come along as everything seems to be going well, smoothly! You will be able to adapt and adjust to what is going on, come up with solutions and weather the storm! Your way of life will continuously be upended throughout your existence, strive on and be strong! Right the ship plus improve on its design ,Buoyancy !
When you think something could never happen in your lifetime, it can. Always expect the unexpected and always be prepared. Better safe than sorry.
We thought we were invincible, we thought modern medicine and vaccines had pretty much conquered things like this. It's 2020, we're not going to be wiped out by the plague or Spanish flu. No matter how much you think you've figured out, don't be complacent, keep researching, keep looking for improvements in how to be more healthy and cure illness. Prepare for the worst!
First responders and the medical professions saved many lives and were finally appreciated for the jobs they performed.
Too many people died before they should have as a result of a unconcerned and selfish president.
April 2020