In the latter part of the 19th century, two wealthy men from Brooklyn NY bought land and built large houses and outbuildings at Westport Point, Massachusetts. They were the Hall and Southard families and their estates ran from Main Road to the West Branch of the Westport River, just north of the village. The Rev. Charles Cuthbert Hall came first, followed by Henry George Southard Sr. They were both affiliated with the Presbyterian Church in Brooklyn and the Union Theological Seminary in Manhattan, so we can safely assume that Rev. Hall introduced Mr. Southard to the area, though the latter had strong Massachusetts roots.
Over the course of the 20th century, generations of Halls owned numerous properties around Westport Point and to this day their descendants represent living history in this area. The Southards, on the other hand, did not. The third and last Southard to live here was Henry George Southard III, who died childless. The family's large estate called the Junipers passed on to his widow but eventually fell into disrepair and burnt to the ground, with the property being sold off.
The author of this article has lived at the Point for 12 years in a former Hall-owned house (Basil Hall, son of Rev. Hall) and knows about the Hall family. Just recently, however, did he hear about the Southard family. The catalyst was the recent contribution by Southard-descendent Stephen Ernst of Hartford CT of family documents to the Westport Historical Society (WHS). Mr. Ernst is the great grandson of Henry George Southard Jr. Our executive director recently placed some of the documents on the Westport Historical Society's (WHS) website for study by members and the public. On December 20, 2022 she convened a Zoom meeting of the WHS Research Committee, and dedicated the full meeting to the Southards of Westport Point. Attending were Southard and Hall-family descendants, as well as numerous Committee members.
The Southard Family – three generations.
There were three Southard men and the widow of the third who owned the Junipers estate at Westport Point for almost a century – from the late 1890s to 1995. They are as follows:
George Henry Southard Senior (1841-1913) – GHS Sr. He married Alida H. Royce (1847-1927) in 1868. They had a son George Henry Southard Jr. and a daughter Edith Brett Southard (1869-1943). His obituary (probably NY Times) indicates he was born in Boston MA of old Yankee stock and was able to trace his lineage back to Plymouth MA in 1623. His professional life was part commercial and part financial. The former had him in the lumber business in Boston and then Newburgh NY in 1865 and Brooklyn NY in 1874. (N.B. Brooklyn was an independent city until 1898 when it became a borough of New York City.) A career change in 1887 took him into the world of finance where he ultimately achieved the position of President of the Franklin Trust of Brooklyn and was associated with numerous other banks, insurance companies, and one electric utility. He was prominent in church work as a member of the First Presbyterian Church of Brooklyn and director of the Union Theological Seminary in Manhattan. As noted, his contact with the Rev. Hall at both these institutions likely influenced him to buy land at Westport Point and construct the Junipers as a summer house.
George Henry Southard Junior (1871-1933) – GHS Jr. – aka "Harry". His first wife was Mary Claflin Eames (1876-1927), with whom they had at least one son, GHS III, and one daughter, Elizabeth Jane Southard (1903-1991). His second wife was Mary Galbraith Southard. His obit (again probably NY Times) indicates he was born in Brooklyn NY and graduated from Yale in 1895. He was a banker by profession, having been a VP of the Farmers Trust in Brooklyn. He moved to Pittsfield MA in 1910 "for his health" where he was a director of the Berkshire Trust and secretary of the Pittsfield Chamber of Commerce. He also owned the J&B Auto Parts Company, which manufactured standardize electric components for autos. According to one source, he was an alcoholic who spent money faster than he could make it and went bankrupt. Thereafter, probably in the late 1920s, he took up residence at The Junipers and died shortly thereafter.
George Henry Southard III (1901-1969) – GHS III – aka "the Colonel". He was an engineer and lawyer by profession. He served in the Army of Corp of Engineers during World War II, attaining the rank of Lt. Colonel. After the war he was a lawyer in the Patent Office in Washington DC and married Blanche Philpitt of that city about 1950. They had no children. Probably in the early 1950s he moved with his new wife to the Junipers and lived there for about two decades. Which profession he pursued in Westport is unknown. However, one thing is for certain: He was elected to the Westport Planning Board in 1965 and was its chairman when he died in early 1969. Thereafter, his wife inherited the estate and continued to live there into the late 1970s.
Blanche Philpitt Southard (c. 1906-1999). Little is known of her early life, other than she was born in Washington DC into an impoverished family. As noted, she met GHS III in Washington and married him about 1950. According to her brief obit in the New Bedford Standard Times, she lived at Westport Point for about 30 years. More on Blanche below.
The Junipers – Southard summer home.
The summer home of the Southard family was at Westport Point and was called the Junipers. GHS Sr. used it exclusively as a summer house, and it appears that GHS Jr. who inherited the estate did much the same. However, after half a century, it appears that a Southard took up permanent residence. While GHS III lived at least part of his life in Washington DC, he probably moved there in the early 1950s with his new bride, Blanche. Moreover, when she became his widow she continued to live there for the better part of a decade. It was, however, under her watch that the estate house met its fate.
The Junipers property was a large parcel of land assembled from several different parcels by GHS Sr. in the 1890s and totaled about 100 acres. With the property assembled, he built the main estate house in 1898 that had a wonderful western view looking toward the West Branch of the Westport River. In addition to the estate house, he also built a carriage house, a water tower, and a gas house that manufactured gas out of carbon blocks. To design the house, he used a well-known architect from New Bedford MA, Nathaniel Smith, who also remodeled the New Bedford Public Library.
While GHS Sr. used a local architect to design the estate house, there is no record that he used a local builder. He may have had a New York firm build the house. We know that the basement bricks came from Greenpoint, Long Island and that they were probably brought in by boat. Millwork in the still-existing carriage house and water tower is of very high quality, with considerable molding and beams of fine grain, and almost certainly is representative of fine millwork used in the estate house. It seems likely that GHS Sr. maintained relations with the lumber industry after entering finance and was able to procure excellent supplies.
Today's address of the Southard property is 1789 Main Road, Westport MA. Westport maps show two old laneways heading west off of Main Road there. One is Scotch Pine Lane that leads to the Synton House and the original Hall estate, while the other is Southard Lane that leads to the Junipers. The latter looks as if it is from the latter 19th and is chained off.
While the Junipers continued in the Southard family for three generations, it almost didn't. The financial crisis of 1907 must have impacted GHS Sr. severely because he put the estate up for sale. An extant sales brochure with numerous pictures attests to this fact. Luckily, his fortunes must have improved because he never sold the property.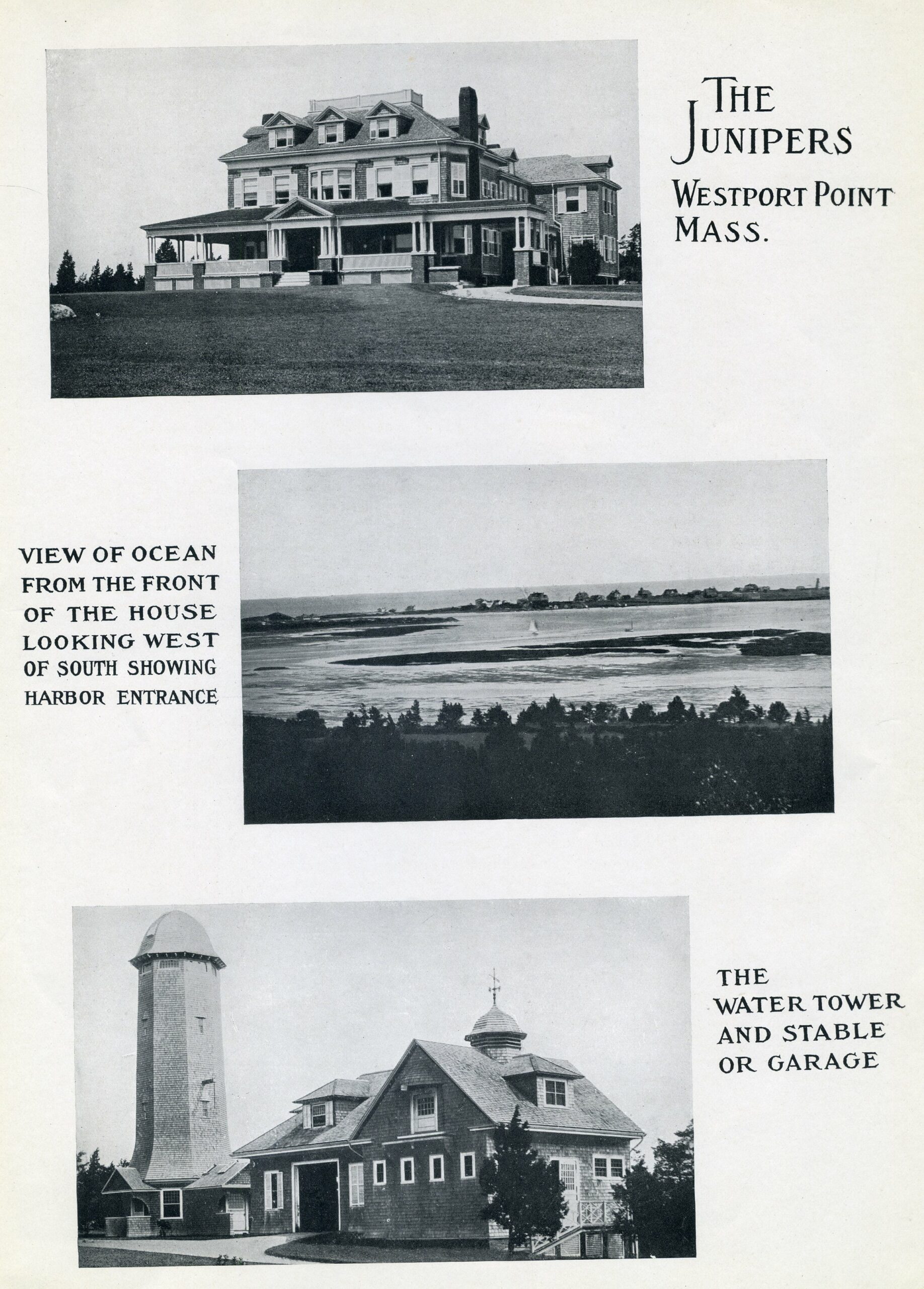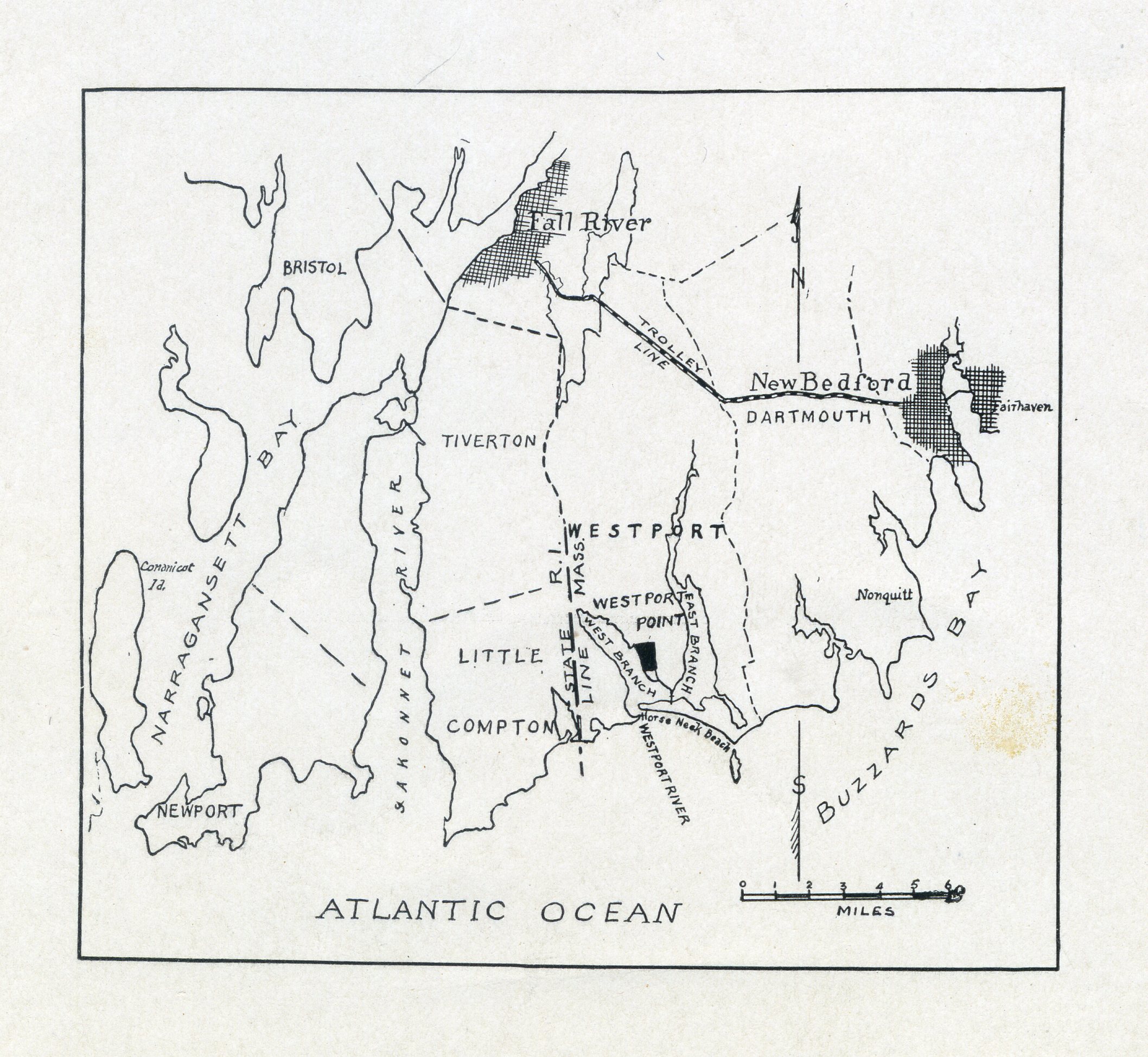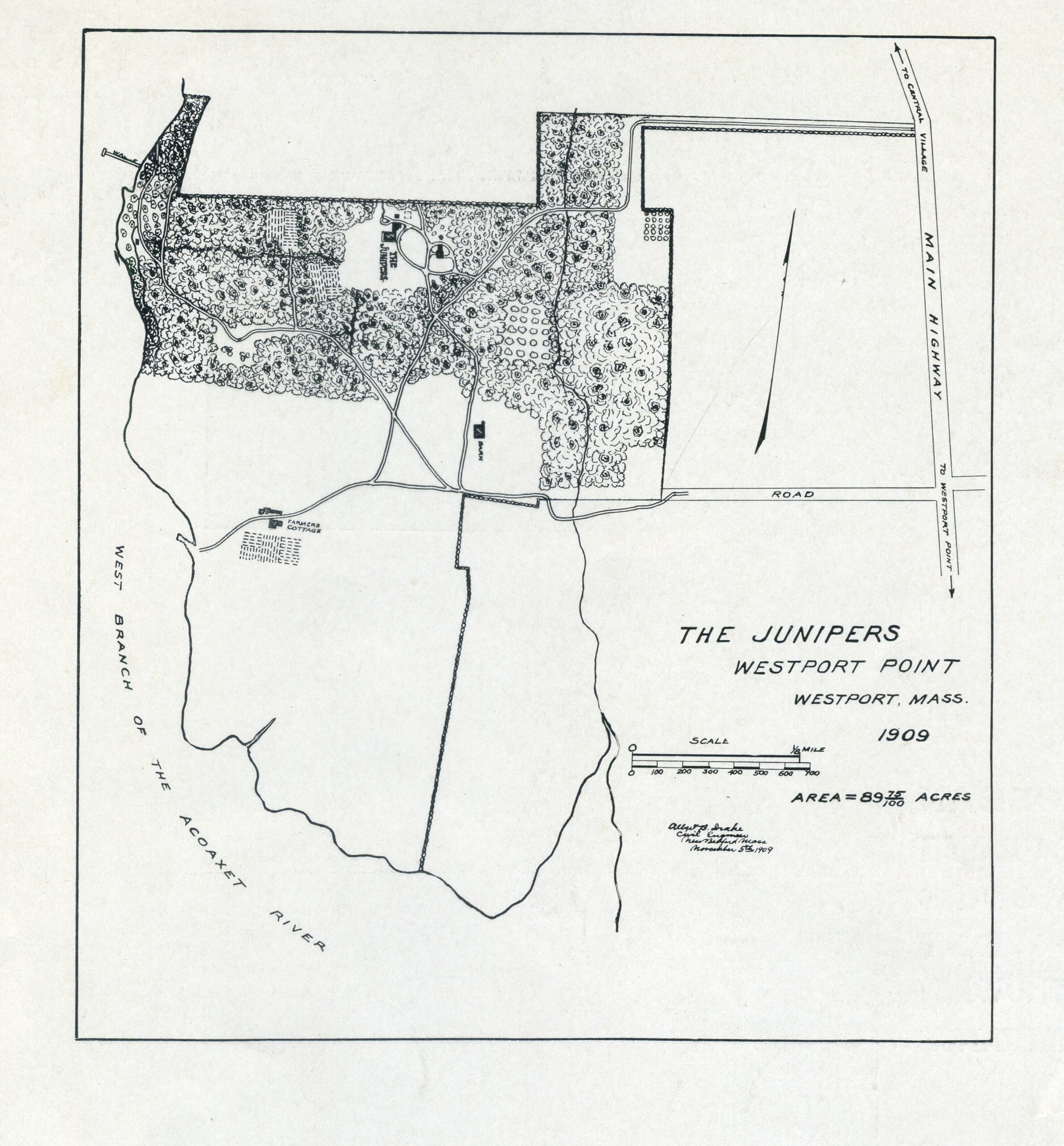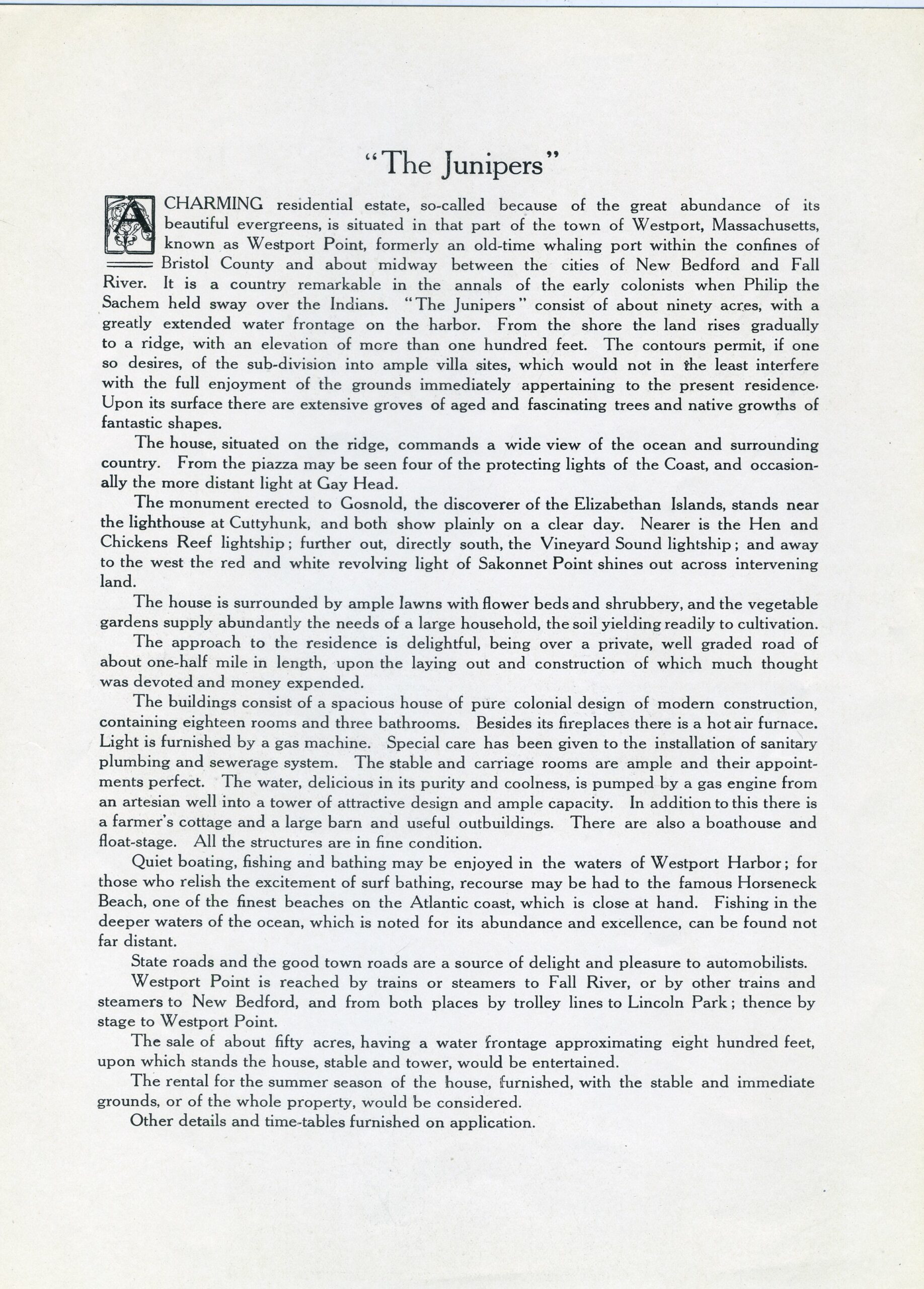 1933 – property division & "Gin Villa".
When GHS Jr. died in 1933, the Southard property was divided roughly in half between his second wife Mary Galbraith Southard, and his sister Edith Brett Southard. While his widow continued to live in the estate house, his sister built a new house on her share of the property in 1938. As an elderly lady she enjoyed hosting bridge club parties, at which she apparently served drinks of gin and tonic. Her nephew GHS III picked up on this and started to refer to her house as the "Gin Villa." The house and its humorous name exist to this day. When sister Edith died in 1943, her half of the Junipers likely reverted to GHS III.
Blanche P. Southard – witness to the Junipers' last years.
The story of the Southards and the Junipers would not be complete without further discussion of GHS III's widow, Blanche P. Southard. She lived on the estate for almost 30 years (circa early 1950s to late 1970s), the first two decades as GHS III's wife and much of the following decade as his widow.
She is controversial because there is a large living memory of her by neighbors and Hall-family descendants and they have differing opinions of her. Some accounts are disparaging in that she was somewhat disagreeable at times, but others are more complimentary. One of the latter has Blanche as a kindly woman who kept chickens and sheep (the latter entered into Westport Fair competitions), while another knows her as a benefactor who paid off fisherman debts at the local Point store and tutored local children. One thing is for sure: On her watch the Junipers estate house met its demise. Vandalism took place, porches disappeared, and in 1988 the big house burned to the ground. She eventually sold the estate in 1995 for $2.15 million to its current owner, who has placed a conservation easement on the property.
By the time the house burned down Blanche had left the property. She apparently returned to Washington DC in the late 1970s to stay with relatives but that did not work out for her. In the late 1980s she reportedly was back in the area living in a motel on Route 6 in Westport/Dartmouth. However, she eventually was able to buy a house on Merrymount Drive in North Dartmouth, where she was living at the time of her death in 1999, according to her obit in the Standard Times.
Thus ends our saga of the Southard family and their Junipers estate at Westport Point.
Maurice E. May
Westport Point MA
January 30, 2023
Sources for this article. The primary source of this article is the treasure trove of Southard family memorabilia donated by Stephen W. Ernst of Hartford CT to the Westport Historical Society in 2022. (WHS 2023.011) Other sources were (1) a video of a Westport Study Group meeting convened in 2008 by Norma Judson that discussed the Southard property; (2) the Research Committee Zoom meeting of the Westport Historical Society convened by Jenny O'Neill on December 20, 2022, which did the same; and (3) information gleaned in personal interviews by the author.
This video of the Westport History Group meeting 2008 includes research by Ben and Martha Guy about The Junipers
Westport History Study Group – October 2, 2008 from Westport Historical Society on Vimeo.