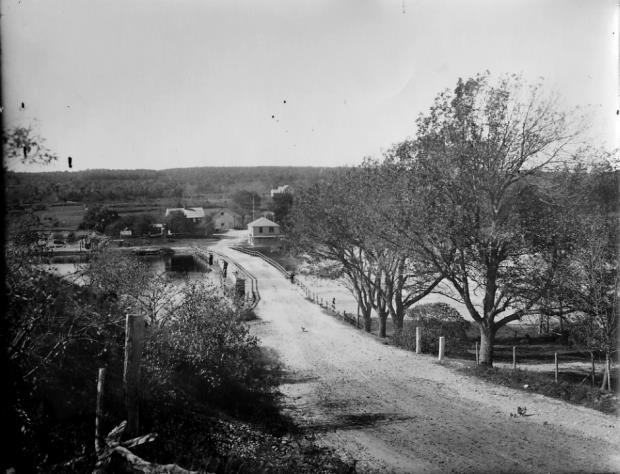 I often think about the following account of an encounter with three runaway slaves near Hix Bridge when I drive across the bridge. It is easy to picture them making their way down Hix Bridge Road towards the safety of New Bedford, probably passing by the Handy House on their way to cross the bridge. At the time of these events in 1790, the Handy House was owned by the Whites, a family that had a history of owning slaves.
This account reflects a complicated legacy. I am most grateful to Marjory O'Toole for so generously and enthusiastically allowing me to share it with you as we mark Juneteenth. The account is excerpted from the following publication:
If Jane Should Want to be Sold
Stories of Enslavement, Indenture and Freedom in Little Compton, Rhode Island
By Marjory Gomez O'Toole, Little Compton Historical Society
Resistance and Runaways: Supposed to be Gone to Dartmouth
Little Compton sailor Joseph J. Grinnell recounted his chance meeting with three runaways in the woods of Westport sometime around 1790 when he was about sixteen years old.  Many years later in 1856 he wrote the following story with the help of P.F. Little, the owner of Little Compton's printing shop.  At that time the 1850 Fugitive Slave Act required private citizens to help return runaway southern slaves to their masters.  Many northerners were up in arms and very sympathetic to Southern runaways in the years following the act.
One circumstance I cannot forbear to mention, which I think cannot fail to interest the reader, seeing the buffitings and wild uproar of parties concerned in the subject of slavery.
In returning to Little Compton, to visit my friends, (after the recovery of my wound [in New Bedford] just before I arrived at Hixes' Bridge, I met three men of color, who appeared to be in the greatest possible haste, often looking back as if they were pursued.  It was about the time that Massachusetts abolished slavery, and Rhode Island still clinging to the institution of slavery.  They were persons I knew and belonged to Joseph Easton, and brother.  After a common salutation, they enquired the best and nearest way to Newbedford, for they said they expected they were persued and wanted to get their as quick as possible and out themselves under the protecting care of the quakers.  I gave them the nearest rout, which was a foot-path, and went a short distance to point it out to them, and then bid them to scratch gravel for their lives: and I turned and persued my journey and soon came to the bridge and stoped and partook of some refreshments, and again resumed my travels.
In rising the hill west of the bridge, I met SAMUEL ANTHONY, the high sheriff, from the county of Newport.  He enquired where I was from.  I told him direct from New Bedford.  He then asked if I had seen three negros on my way:  I told him I saw so many persons I could not distinctly recollect.  I must here confess I deviated from the truth to shield the poor creatures.  He then informed me that he was in persuite of three run-away slaves, belonging to Easton, and that he had run his horse almost all the way from the island, and the poor animal confirmed in its looks his statement.  I had a very nice whale-bone whip in my hand I had given me in New Bedford, which he took (Altho' I objected to it) without giving me half its value – I tried as hard as I could to detain him, to give the poor devils a good start.  Fortunately the three negros, arrived before Anthony, and put themselves in the care and protection of the quakers.
The Sherriff, on his arrival was soon informed of their whereabouts, and made no delay in presenting himself before them in his official character, calling them by name Moses, Jack &c. you are my prisoners, at the same time biding them to follow him. The poor fellows not knowing better was about to obey, when the people interfered.
The news had spread like wild-fire and the inhabitance was determined to release them from the Sheriff's clutches, and from the bonds on slavery  They took the negroes from him, – cut off his horses tail as near his body as they could, – sheared his mane, close to the poor animals neck and not feeling satisfied they cruelly cut his ears off almost even with its head, – tore off the sheriffs cot, and many other annoyances commit, until they had allayed their agitated feelings, and then bid him take tracks for Rhode Island, as fast as his poor beast could carry him.
It will here be observed that the sheriff assumed more authority than was legal, and more than he was able to control.  The assumption of power was in those days to prevalent and a practice to absurd to be tolerated in a land of freedom.
Though Joseph Grinnell and P.F. Little were directing this story to their 1856 audience, it is very plausible that the teenage Joseph, a white boy, was truly sympathetic to runaways in the 1790s.  He was repeatedly apprenticed as a child and by the age of sixteen had already parted ways with three different masters he and his family felt mistreated him.  Joseph's empathy, though, did not stop him as an adult from signing on as a sailor on a slaving voyage.