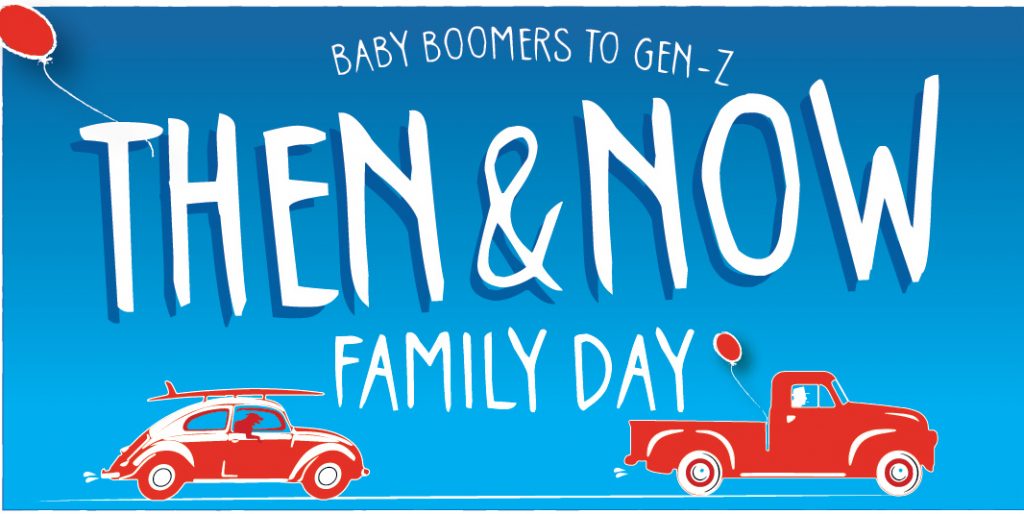 Baby Boomers to Gen Z
July 13, 2019
10 AM – 4 PM
Handy House
202 Hix Bridge Road, Westport
FREE!
Do you remember rotary phones, typewriters and Jiffy Pop?
Join us at the Handy House with your grandchildren, younger friends, or family members for a special day of activities designed to encourage sharing and dialogue across the generations. The one day event will include a "Then and Now" pop up museum featuring objects from the 1950s and 1960s. Kids can get up close to a vintage car, play retro games, and start a conversation with grandparents or older friends about their memories of growing up."I walked miles to school and collected cans for spending money!" Have you ever said that to your children or grandchildren to explain how your childhood experience was different from theirs?
Do you think you had more fun? Were your toys and household items simpler and better? What was life like before cell phones, Netflix, Facebook, and Alexa? Talk to older people today and they may describe how they had to actually walk across the room to change one of the only four or five channels on their televisions. There is a certain nostalgia to memories of life 50 years ago, but was life better back then — or just different? How do the experiences of our older friends and family members compare with those of today's Millennial young adults and Gen Z teens and tweens?
We are looking for objects for the one-day 1950s and 1960s pop up museum. All objects will be returned after the event. We especially seek objects relating to fashion, entertainment, games, cooking/kitchen ware, and technology such as typewriters, telephones etc.
Here are some more ideas:
Entertainment and games
Fat-tired Schwinn bicycle
Viewmaster and slides
Wooden Skis and Leather Ski Boots
Sleds and Wooden Toboggan
Aluminum Flying Saucer – Snow Disc
Wooden Snowshoes
Ice Skates
Wooden Tennis Racquet
Croquet Set
Bamboo Fishing Rod, wicker Creel, Lures
Vintage Baseball Equipment (wool uniform, gloves, pennants, catcher's equipment)
Baseball Cards
Leather Football Helmet & gear
Football Cards
Hartland Baseball Figures
Wiffle Ball
Comic Books – Classics
Superman & Batman memorabilia
Cowboy memorabilia & toys (Roy Rogers, Lone Ranger, Hopalong Cassidy, Gunsmoke, Lone Ranger, Lone Ranger)
Cap Guns and Holster
Disney memorabilia
Mickey Mouse Club
Howdy Doody, Clarabell, Flub-A-Dub puppets
Jerry Mahoney doll
Space Rangers
Froggy the Gremlin (rubber frog)
Yo-Yo
Slingshot
Lincoln Logs
Erector Set
Harmonica
50-60's Movie posters & memorabilia
Toy Soldiers, Cowboy and Knights play sets
Toy Train sets
Slot Track Racing set
Early Barbie
Dinky Toy cars and trucks
Model Cars and Airplanes
Marbles
Board Games
Cribbage Board
Pogo Stick
Stilts
Milkman Window Sign
Streetcar Tokens
Nancy Drew novels
Tin Toy Trucks
Marx Trucks
Auburn Rubber Toys
Technology
Old Tube Radio
Old TV Set
Shortwave Radio
CB Radio
Reel-to-reel tape recorder
Portable record player
78, 45, 33 rpm records
Adding Machine
Movie camera and projector
Box Camera and vintage cameras
Flashbulbs
Slide Projector
Typewriter
Rotary Telephone
Slide Rule
TV Antenna
Fountain Pen and Ink bottle
Rinehart Cursive Penmanship Chart
Food/kitchen
Meat grinder
Drip coffee pot
Manual Toaster
Bean Pot
Poodle Skirt
Howard Johnson's ephemera
TV Dinners and Tray
Old Coke Bottles
Fireballs (candy)
Saltwater Taffy
Za-Rex (bottle)
Charleston Chew
Necco Wafers
Marshmallow Fluff
Snow's Clam Chowder
Canned Welsh Rarebit
Jiffy-Pop
Apron, Potholders, Quilts
Menus, ads, placemats, posters from local Restaurants and Entertainment
Milk bottle
Fashion
Women's Fashion Eye Glasses
Women's and Men's Hats
Beauty products?
Prom gown???
Misc.
Men's Pipe and Tobacco Pouch
Red Man Chewing Tobacco
Cigarette Lighter
Ashtrays
Piggy Bank
Road Maps
AAA Triptiks
Air Raid and Fallout Shelter sign & posters
S&H Green Stamp Book
Savings and War Bond poster & book
Sears and Montgomery Ward catalogs
Saturday Evening Post covers
Life Magazine covers
Norman Rockwell anything
Hurricane (kerosene) Lamp
American Bandstand
Dick Clark
Brylcreem
Westport Fair posters & memorabilia
Lincoln Park posters & memorabilia
Circus posters & memorabilia
Rodeo posters & memorabilia
Seekonk Speedway posters & memorabilia
Sports Team & Player posters
Music Concert posters & memorabilia
Automobile brochures and ads
Automotive signs & posters
Nautical signs & posters
Old Tools
Whirligigs and Pink Flamingos