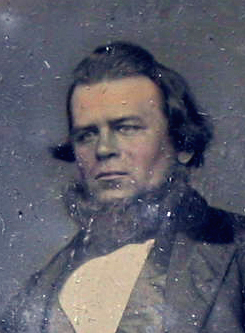 Young Albert was but a lad of 17 when he left Westport on the Mexico on April 12, 1844. He returned in August of 1845. (The image here was taken in 1863.) The youthful Albert's early entries into his journal mention that he manned the mastheads and washed off the decks, ordinary duties of the seaman, which early in the voyage seemed novel and worthy of mention.
On April 30th they caught 2 sperm whales. Afterwards, as the days wore on without sighting whales, his entries featured such rousing highlights as "got out a barrel of beef" or a "cask of butter." But on May 19th something really novel and exciting happened. They sighted a brig and rowed out toward her. When they came within hailing distance of her "she would not let them come along side her but shot a charge of grape shot from a quarter gun." Albert notes further only that the brig was painted black. What could have been on that vessel that they did not want company?
The Mexico hunted the sperm whale in the Atlantic but at times she went several months without catching or even seeing one of the bulky creatures. They next took a sperm whale on July 25th, the first since April 30th. They caught and boiled down several blackfish (pilot whales).
In September, they reached Flores in the Azores where they took on wood, potatoes and onions. Later they sold 6 barrels of blackfish oil for 2 quarters of beef. From Flores they sailed to Fayal where Albert was moved by the sight of lush green land and began a series of watercolors of Fayal and the Peak of Pico. Several outline drawings in ink followed.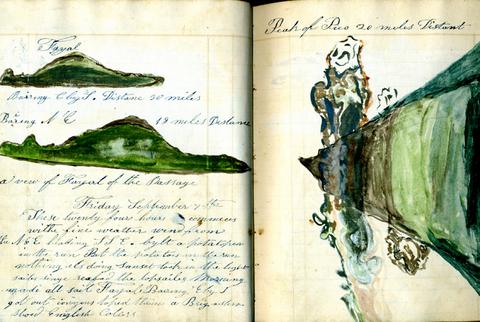 [Pages from the journal of the Mexico showing Gifford's drawings of the Peak of Pico, WHS]
They had no luck until whale agreed to part with his blubber on Sept. 18th. On September 20th young Mr. Gifford records: started "the works with the head. Commenced cutting the junk Boiling all night finished cutting the Junk washed off decks. Commenced cutting up the blubber in blubber room. Rolled away 20 bbls from the cooler."
September 21st: "finished boiling the head. 45 bbls. Commenced boiling the body. Rolled away 20 bbls from the cooler Blubber runs had all hands up to their eyes in grease. Hard at work Some raining."
September 22nd "Up to eyes in grease boiling all night. Finished cutting blubber 12 o'clock. Commenced boiling the flukes."
September 24th he writes "finished 12 o'clock stowing 95 bbls." And on September 25th he writes: "all hands washing the ship. Got teeth out of jaw."
This gives a good idea of how hard they worked when they caught a whale. They got the one next on September 28th and again were "up to their eyes in grease." After that they caught no sperm whales until January 29th.
They spent most of December, January, and part of February speaking and gamming (visiting) with the bark Champion of Westport. Her captain was Mr. Sowle. They also gammed frequently with bark Le Baron of Newport under Captain James Price.
On January 27th he records "when drawing water G. Devol fell overboard caught hold of the bucket rope and we saved him."
The real excitement, next to being shot at, came on March 22,1845. The steward, after being ashore, "got drunk, he ground a knife put in his side, he insulted the captain and threatened the officers lives. Put him in irons and down the after hold. Morning. Captain called all hands aft and read the articles." In other words the captain immediately reminded them of the rules and that he thus had the authority to punish the steward in this manner. The next day they hauled the steward out of the hold, paid him off and put him on a schooner bound for St. Thomas.
On May 16th Albert mentions that he is scrimshanding. Throughout April, May and June, he records "nothing remarkable doing" and mentions mostly the weather, the sailing of the brig, and the ships spoken.
July 15th he noted they are homeward bound at Lat. 33 33' Long. 53 37'and July 26th they caught their last 2 sperm whales.
The Mexico arrived in Westport on August 9, 1845 with 320 barrels of sperm oil.
At the end of volume I the name Eleanor appears several times, then Eleanor S. Gifford. A verse titled the Silvery Tide, about the love of a maiden for her sailor, is also written in. Considering that the journal is the work of a 17–year-old youth. I am guessing he had a crush on an Eleanor. A computer search revealed the Silvery Tide to be an Ozark folk tune, probably a popular tune of the day.
What Happened at Home and What We Know of Albert Augustus Gifford's Life
Albert did not marry an Eleanor but Lucy Ann Sowle on April 23, 1848. He sailed on the bark President few weeks after his son was born. Returning in 1850, he set out again on the New Bedford ship Herald as a second mate in 1851 and came home March 31, 1855. We don't know if he had received any news while at sea, but he came home to find his wife dead since May of 1852, of consumption. May 2, 1855 he marries Sarah Sowle, a month and one day after his return to Westport. Lucy had a sister, Sarah Potter Sowle, seven years her senior. This woman, in her early thirties at her marriage, most likely was the Sarah that Albert married and probably the person who had been caring for Albert's little son for three years. He soon left Sarah and son to go back to work, sailing October 23, 1855 on the bark Mattapoisett of Westport under Captain James M. Sowle (not his father–in-law.). He was away for two years. They had a daughter Almeda Jane in 1858. Unlike her sister, Sarah was healthy and lived to be 81, succumbing in1901 to stomach cancer. Albert Augustus predeceased her, dying October 22, 1884 of what the Westport death records call Paralysis.
Sarah had possession of Albert's journal while he was away in the 1860's and used it to record all the news of Westport Point. Beginning with January of 1861, she records page after page of births, deaths and marriages including the death of her father-in-law and Abraham Lincoln. She lists ships sailing from the Point.
She then begins with the real gossip. She names three people as becoming crazy. Several others, including her mother-in-law, took fits. She also mentions various men who went to care for the sick and wounded soldiers in Portsmouth.
September 3rd she writes, "A Brig loaded with coal cast away on the hen chickens. The Captain and Mate saved by a Colored Boy from the Tavern in a small Boat & dareing adventure The Captain declared he would share his last meal with him. The rest of the crew was saved by Capt. George Gifford in his sloop."
October 24th of 1864, she records that James T. Gifford got caught in the machinery broke his leg had it taken off and died in a few hours.
Her record concludes with "Richmond taken by the Federals" and one last choice tidbit: Christiana B. B——— Divorced from Joseph W. B——–. She of course mentions names. I will not, but one can come and read the journal and find out all about his or her neighbors' ancestors.
Never a dull moment at Westport Point!