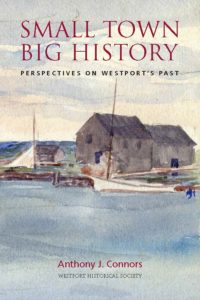 Discover the story of YOUR town!
A NEW LOCAL HISTORY BOOK!
Small Town, Big History: Perspectives on Westport's History by Tony Connors
Join us for a virtual book launch via zoom, preview of Westport History 101, local history conversation and raise a glass in memory of Tony Connors. Register to attend this event here.
This volume presents a collection of articles and presentations authored by Tony Connors during his decade-long tenure as President of the Westport Historical Society. The collected essays provide us with insights into industrial development, political division, struggles for freedom, and the extraordinary achievements of the nationally significant Paul Cuffe.
"It takes a unique perspective to draw meaning from the minutiae of local history and to reveal untold stories. During his tenure as President of the Westport Historical Society, Tony Connors applied his skills as historian, researcher, and educator towards the creation of a meaningful town narrative. He pulled broad themes from stories of individual lives led in the somewhat isolated, rural town of Westport, shining a historian's light to reveal the startling fact that Westport is part of a national narrative."
Together with his popular series Westport History 101 (now available as videos on the website of the Westport Historical Society), Tony has left us a legacy of infinite perspectives on this town's history. Purchase your copy by credit card here.