Even by Westport's standards, Cadman's Neck is off the beaten track. This small promontory of land edging into the east branch of Westport River is easily bypassed on Hix Bridge Road. However, what is now a secluded community was once a hub of activity, a place where thousands of people would gather to participate in religious camp meetings. In 1879, one local resident pondered a name for the community of worshipers that gathered annually in the month of August:
"Cottage City will not do, not that the city part of the name is out of place but there are no cottages here, at least but two, the restaurant and stable, and our friend eventually settled on the name Tented City."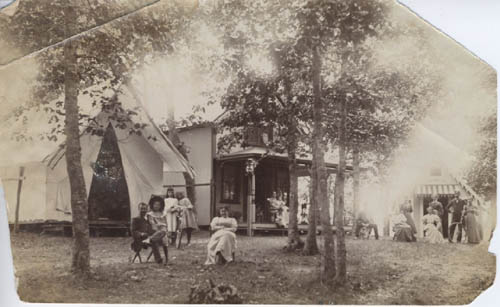 What were camp meetings?
In the late 19th century, Westport hosted two camp meetings, one at Cadman's Neck, the second at Beulah Grove near Hemlock Station (North Westport). They were among several camp meetings in this region, the largest being Wesleyan Grove (also known as Cottage City) on Martha's Vineyard. These events were scaled down versions of the camp meetings first held on the western frontier. Cane Ridge, Kentucky was one of the earliest and most infamous of all camp meetings. Held in 1801, it lasted 6 days and nights, involving 10,000 to 25,000 people. The meeting was said to have made a noise like Niagara and people fell by the hundreds as men slain in battle. These gatherings were powerful tools for religious conversion, and for those already converted it was an opportunity for renewal and for mending what was called a "backslidden state." Even here in Westport, camp meetings were undoubtedly intense emotional experiences. The Republican Standard (August 26 1880) informed its readers "that the young lady made insane by the excitement of the camp meeting has been insane twice before. Her mother and sister have been insane and her father and grandfather died in an asylum."
On the East Coast camp meetings were primarily adopted by the Methodists. Cadman's Neck however was notable for involving all Westport's religious societies. Quakers, Baptists and Methodists combined in 1878 to form Westport Camp Meeting "for a spiritual quickening and reviving of the churches, creating a spirit of unity and goodwill among the members of the Association and throughout the community." Reverend Elihu Grant was the first president and Cortez Allen, no doubt seeing a good spiritual and business opportunity, agreed to give use of his grove at Cadman's Neck for meetings.
Why Cadman's Neck?
Given the specific logistical requirements for a successful camp meeting, Cadman's Neck was a natural choice, offering good drinking water, pasturage for horses, shade for the audience, a central location, a landowner who would allow wood to be cut for tent poles, a forest to screen the meeting from the world, and access by water. In the late 1800s Hix Bridge Road was a main thoroughfare from New Bedford. The crowds arrived by water, or by road on the excursion wagon "Sunshine" from New Bedford. Those who came by rail were given free return tickets.
A correspondent for the New Bedford Mercury in the early 1880s sets the scene:
"The grove consists almost entirely of oak in a good stage of growth, and has been carefully and thoroughly cleared of dead limbs and underbrush so that it is easy and safe even with thin shoes and stove pipe hats. The southwestern breeze keeps it temperate."
The correspondent goes on describe a gateway opening into a pasture and an ingeniously constructed "tabernacle", the gathering place for preacher and audience:
"A new and substantial stand has been built to the north and west of the old one, it has permanent seating running the whole length. By a neat arrangement of doors and shutters the light and wind can be shut out. The front can be opened by hoisting the whole upper half which is hung on hinges and which when up acts as an awning for the preachers and singers. In front of the stand seats are arranged in semi circles, sufficient to accommodate 600. From the stand to the back seat is a rise of some 10 feet so that one's view is not obscured except by some "poke" bonnet or sun umbrella."
Preparations also included the construction of wharves for those arriving by boat
and a flagpole was placed on or near the Tabernacle "at such a height it can be seen for miles around." (Republican Standard, August 4 1887).
"There is abundant entertainment for man and beast. Mr. Cortez Allen has a dining tent 24 feet by 60 full board is 60 cents, dinner 40 cents, supper and breakfast each 30 cents. Across the carriage drive from the grounds is a stable 30 by 75 feet with 36 stalls for horses and carriages. Near the stable is a horse grove where horses may be hitched."
Held in August, the week long camp meeting followed a relentlessly regular schedule of preaching, praying and singing. Preachers from all parts of the country entertained the crowds of up to 2000 people beginning at 9 o'clock and continuing into the evening
"Dwelling in the goodly tents of Jacob"
Tents were an integral part of the experience. They were preferable to wooden cabins which, according to one contemporary authority on camp meetings, encouraged "a class of low and ludicrous ideas, since they give a spectator rather the idea of a huddle of Irish rail-road shanties, than of a worshipping people "dwelling in the goodly tents of Jacob.""
During the 1880s a large number of attendees at Cadman's Neck remained in camp all night. Women occupied St Paul's tent and men stayed in Mt Zion tent.
Three types of tents were used at Cadman's Neck: family tents, society tents and boarding tents. The rent, to be paid to Gilbert Wordell, for pitching a tent was 1 dollar. Eventually summer cottages replaced tents, but even these cottages mimicked the concept of a tent. Like those built at Cottage City on Martha's Vineyard, they were typically two story rectangular buildings, with a wide double door centered just like a tent opening, narrow windows on each side, and equipped only with an outdoor kitchen.
Under cover of darkness…
Clearly such religious gatherings were also important social events. The following reports provide an entertaining glimpse into exuberant youthful antics:
"Police discovered some liquor hidden in the bushes, in response to inquiries they said that the liquor was brought from the Point. A gentleman acquainted with that quiet village replied so much whiskey could not have been found there. They promised to leave at once in the boat that brought them. After the police had photographed them in their memories they were permitted to depart. They confessed that it came from the rum hole on the Horseneck. It is a disgrace to the town that such a place of temptation and vileness is permitted within its limits. Your correspondent cannot learn of any effort has been made to suppress it."(Republican Standard August 7 1879)
Another incident suggests that the youthful urge to create disorder from order, specifically to overturn structures, is perennial:
"Some lads tenting were a little frisky last night. Near the dead hours they sailed forth and advanced on a wooden structure in the rear of one of the tents used for a kitchen with a concerted purpose of tipping it over. Arousing the occupants of the tent, they were frustrated in their plans, the patrol men descended on them and in the darkness took the one that giggled who proved to be one the most innocent of the larks and he was shut up in the stand."(Republican Standard)
Next time you drive by the road leading to Cadman's Neck, take a minute to explore the small peninsula and ponder its origins as Westport's 19th century "tented city."
Jenny O'Neill