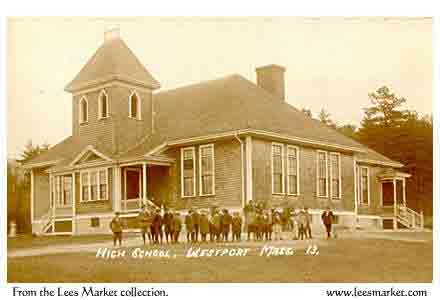 A High School at the Head of Westport (Head School) was recommended by an investigation committee whose members were E.T. Brownell, Henry Smith, and Cortez Allen in April 1868. The committee recommended "establishment of the building at the Head of the East River for 18 weeks of the term" and "that the school should be maintained at the Head…unless a good place was found at the Point." Evidently the other half of the year the high school met at the Point.
Around 1890 the High School at the Head moved to the Point for an unknown amount of time then to Central Village to what is now (2003) the Town Hall Annex, also known as the Earle School, where the first class was graduated with seven pupils in 1923.
The High School at the Head or Head School became a grammar school probably in 1890 when the High School moved to the Point, and continued to function as a grammar school until the 1920s.
The date of construction of the Head School at the Head of Westport and the years it served as a high school need to be added to this data. Maps of Westport dating 1871 and 1895 show no school at this site.