Paul Cuffe: Following His Footsteps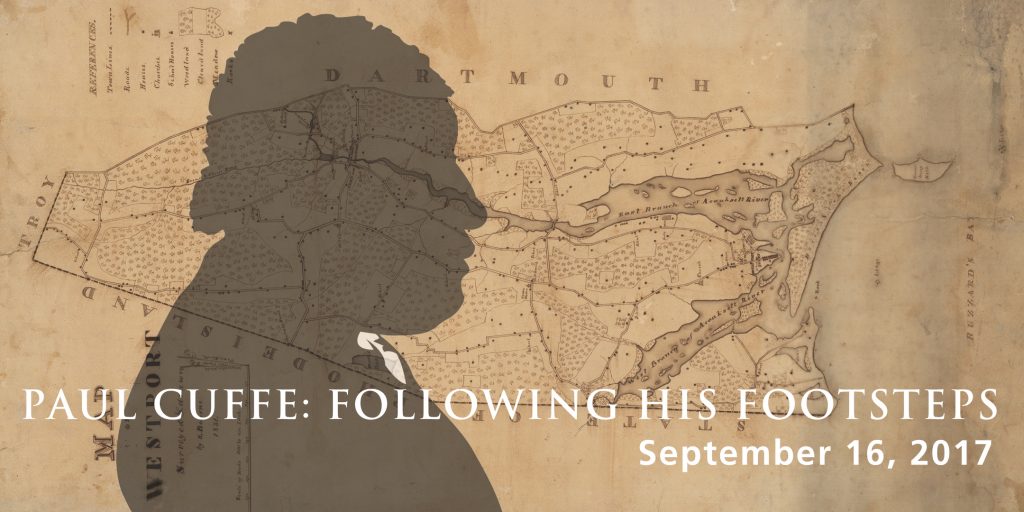 THIS EVENT IS SOLD OUT. WE ARE NOT ABLE TO ACCEPT ANY MORE REGISTRATIONS!
8.30 AM – 4 PM Saturday September 16 at the Westport Friends Meeting House, 938 Main Road, Westport
A symposium exploring new perspectives on the life of Paul Cuffe. Keynote speaker Vanessa Julye, Program Coordinator of the Ministry on Racism and Youth Ministries at the Friends General Conference and co-author of the book "Fit for Freedom, Not for Friendship: Quakers, African Americans, and the Myth of Racial Justice."
Panelists include: Dr. Jeffrey Fortin, author of forthcoming biography on Cuffe; Cedric Woods, Director of the Institute for New England Native American Studies, UMass Boston; Lamont Thomas, author of "Rise to be a People"; Andrew Pierce, Native American genealogist; and local historians Carl Cruz of the New Bedford Historical Society, David Cole, Betty Slade, and Richard Gifford. Following the symposium there will be a bus tour of local Cuffe and Wainer sites.
This event is sponsored by Westport Historical Society, the Dartmouth Historical and Arts Society, the New Bedford Historical Society, and the Westport and Dartmouth Historical Commissions.
PROGRAM
8:30–9 am
Registration and coffee at Macomber Community House, 930 Main Road, Westport
Morning Program at Westport Friends Meeting House
9:15–9:45
Welcome
Jenny O'Neill, Executive Director, Westport Historical Society and Lee Blake, President, New Bedford Historical Society
Paul Cuffe Day Proclamations
Senator Michael Rodrigues
Representative Paul Schmid
Selectman Brian Valcourt,
Everett Hoagland, New Bedford's first poet laureate reads his poem Paul Cuffe: Indian Blood, An Addendum for Negro History Calendars
9:45–10:30 Keynote Address
Paul Cuffe—A Quaker who Faithfully Followed his Call
Vanessa Julye, Nurturing Ministries Coordinator, Ministry on Racism and Youth Ministries Programs, Friends General Conference
10:45–11:00 Break
11:00–12:00 Panel discussion
New Research on Cuffe's World, his Native Heritage, and his Vision for an End to the Slave Trade in Africa
Researchers will share new revelations on Cuffe's legacy and his impact on local and global history.
Lamont Thomas, Moderator, author of Rise to be a People
Jeffrey Fortin, Ph.D., Associate Professor of History, Emmanuel College
Christophe Naigeon, Filmmaker and author of Liberia
Cedric Woods, Ph.D., Director of Institute for New England Native American Studies
12:00–1:00 Lunch for registered participants at Macomber Community House
Afternoon program at Westport Grange Hall, 931 Main Road, Westport
1:00–1:45 pm New Revelations from Old Deeds: Identification of Cuff Slocum, Paul Cuffe, and Michael Wainer Property Holdings
David Cole, Ph.D., Local Historian; Richard Gifford, J.D.; Local Historian, Betty Slade, Ph.D., Local Historian
1:45–2:00 Break
2:00–2:45 Envisioning Cuffe: 1811–2017
An overview of the images that have been used to represent Paul Cuffe
Carl J. Cruz, Local Historian, New Bedford Historical Society
2:45–3:00 Break
3:00–3:45 Family ties: Presentation on the Genealogy of the Cuffe and Wainer Families
Richard Gifford, J.D., Local Historian and Andrew Pierce, who with Dr. Jerome D. Segel, has co-authored The Wampanoag Genealogical History of Martha's Vineyard, Massachusetts, Vol I and Wampanoag Families of Martha's Vineyard, the Wampanoag Genealogical History of Martha's Vineyard, Massachusetts, Volume II, Part A and Part B
3:45–4:30 Native American Ceremony and Wreath Laying at the graves of Paul and Alice Cuffe behind Macomber Community House
4:30 Inaugural bus tour of African American and Native American Heritage Trail
4:30–4:40 Boarding bus at north entrance to Macomber Community House
5:30 Return to Macomber Community House